Notorious 'Emi Keju' gang members to be charged under SOSMA tomorrow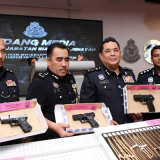 SHAH ALAM, Aug 15 (Bernama) -- Police today said that members of the recently busted 'Emi Keju' criminal gang will be charged tomorrow under the Security Offences (Special Measures) Act 2012 (SOSMA), but only because they had disappeared before after being allowed bail.
Bukit Aman Criminal Investigation Department director Datuk Huzir Mohamed said police have tried indicting them under normal laws in the past, but they end up posting bail, afterwhich they disappear or return to crime.
"The Emi Keju gang leader and 18 of his members, aged between 20 and 38, will be charged at the Selayang Sessions Court tomorrow under Section 130V and Section 130W of SOSMA for being members of an organised criminal group and assisting an organised criminal group.

"If we do not stop them now, they will become more dangerous as they are well organised and meticulous in their criminal activities. If left free, they could end being more dangerous than the Mamak Gang," he said in a media conference here today.....