Corruption can gradually decline if core leadership is clean - Saifuddin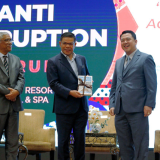 KUALA LUMPUR, Sept 5 -- Corruption can gradually decline when the core leadership of a country is clean, said Domestic Trade and Consumer Affairs Minister Datuk Seri Saifuddin Nasution Ismail.

He said that leadership by example in the highest echelons of the government is critical in achieving a state where citizens do not condone corrupt practices
"As the saying goes, "a fish rots from the head", the reverse must also be true. Leaders must be committed to integrity and embody accountability and anti-corruption," he said when delivering the closing keynote address at the Malaysia Anti-Corruption Forum themed 'Understanding and Addressing the World's Biggest Problem' here today.
He said recent data released by the Malaysian Anti-Corruption Commission (MACC) revealed that 46.3 percent out of the 4,860 individuals detained for graft from 2014 to June 2019 were civil servants, which was a grave cause for concern.....