'Karnival Rahmah 2019' starts tonight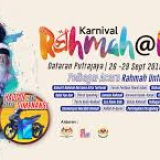 KUALA LUMPUR, Sept 26 -- The 'Karnival Rahmah 2019', a carnival for Malaysians of all races and religions, will begin tonight with a live telecast of the Islamic affairs premier forum (Forum Perdana Ehwal Islam) entitled 'Wasiat Agung'.
Federal Territory Islamic Religious Department (JAWI) Director Mohd Ajib Ismail said the forum, to be aired over RTM1, features renowned speakers including Imam Muda Asyraf Muhammad Ridzuan and Prof Datuk Dr Muhaya Mohamad.
"Some 3,000 people are expected to attend the forum at Dataran Putrajaya at 8.30 pm tonight, and tomorrow, we invite everyone regardless of religion and race to take part in various events which offer exciting prizes," he said when contacted by Bernama.
Deputy Prime Minister Datuk Seri Dr Wan Azizah Wan Ismail is scheduled to officiate the carnival at Dataran Putrajaya tomorrow afternoon.

Minister in the Prime Minister's Department Datuk Seri Dr Mujahid Yusof Rawa yesterday said that the carnival organised by the Malaysian Islamic Development Department (JAKIM), with the collaboration of JAWI, will feature various programmes aimed at inculcating love, respect and harmony.....