Supply chain study report out in July - Saifuddin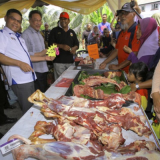 PORT DICKSON, May 4 (Bernama) -- The final report on the supply chain study of 10 popular goods is expected to be obtained in July, said Domestic Trade and Consumer Affairs Minister Datuk Seri Saifuddin Nasution Ismail.
He said the report to determine whether the increase in the prices of goods took place place at the importer, producer, plantation, wholesaler, distributor or retailer's level, would then be tabled before Prime Minister Tun Dr Mahathir Mohamad.

''In the report, we want to see where the increase (of price) in the chain takes place, who raises the price and why the price is increased, is it due to fee, transportation, bill or pay.....