"It'll be explosive in Shah Alam", as Syafiq plots JDT's place in cup final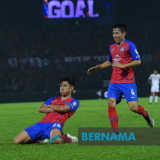 KUALA LUMPUR, Oct 23 -- Johor Darul Ta'zim (JDT) forward Muhammad Syafiq Ahmad is bracing for an explosive second leg match this weekend when the Southern Tigers take their slender 2-1 lead over Selangor in the 2019 Malaysia Cup semifinals to Shah Alam.

Muhammad Syafiq described how Selangor managed to pull level just minutes after he had opened the scoring in the 14th minute during the first leg match at the Tan Sri Hassan Yunos, Larkin last Saturday as what the Red Giants are truly capable of.
The 24-year-old nippy national forward said the single goal lead has set up the return leg at the Shah Alam Stadium quite nicely for an intense final 90 minutes.
"Our 2-1 win was not easy. When it comes to the semifinals, every team is good enough to match each other and not easy to beat. They (Selangor) were all over us and hardly gave us room to remain consistent in our game.
"I was not very happy with our performance, but I should also thank my teammates who tirelessly went all out for the win," he was quoted in a statement released by the Malaysia Football League (MFL) today.
The 2-1 score now does not seem like a comfortable advantage for JDT head coach Benjamin Mora, especially if he recalls how Selangor clawed back from behind to record a 3-2 victory over defending champions Perak in the quarterfinals last month.....