Latheefa will not be involved in investigation into minister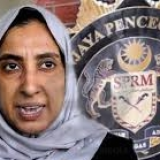 PUTRAJAYA, June 12 (Bernama) -- Newly-appointed Malaysian Anti-Corruption Commission (MACC) chief Latheefa Koya said today that she will not be involved in the investigations into allegations of corruption against a minister.
In a statement, Latheefa said the case will be handled by her deputy and his investigation team.

"I will not be involved in any way, whether in the investigations or decision making," she said in response to queries on a report lodged by Suara Rakyat Secretariat chairman Datuk Lokman Noor Adam yesterday.....