MTW2019 kicks off today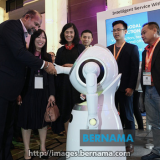 KUALA LUMPUR, June 18 (Bernama) -- The Malaysia Tech Week@MTW19 was launched by the Minister of Communications and Multimedia Gobind Singh Deo

MTW19, congregates the best of Malaysian corporations, ecosystem partners, investors, regulators, tech start-ups and international delegations

The event would be opportunity for innovators, investors, policy-makers, academia, fintech influencers and industry leaders in the fields of finance, banking dan technology to explore opportunities and challenges in harnessing fintech innovations to shape the future of the financial services industry.


Taking place from June 17-21, the MTW19 organised by the Knowledge Group of Companies and supported by MDEC.


.....