Tg Piai by-election: PAS in Tanjung Piai to support MCA candidate

Last Update: 07/11/2019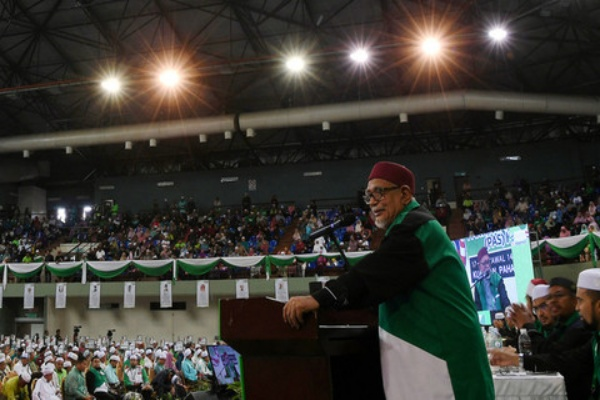 PONTIAN, Nov 6 -- PAS president Datuk Seri Abdul Hadi Awang tonight confirmed that his party will be going to Tanjung Piai to support MCA which is representing Barisan Nasional in the Tanjung Piai by-election.
He said this is a sign to ensure the victory of BN candidate Datuk Seri Dr Wee Jeck Seng in the constituency.
"PAS can support the MCA candidate who is considered a non-Muslim...who understands Islam which is taught not only as a religion but also a way of life as Islam teaches us to live in a plural society.
"Even though we have different opinions, we are united for Malaysia in the same boat. The MCA candidate represents us all," he said in a speech at a BN Premier Ceramah in Rimba Terjun here.
Also present were UMNO president Datuk Seri Dr Ahmad Zahid Hamidi, MCA president Datuk Seri Dr Wee Ka Siong and Jeck Seng.
Meanwhile, Ahmad Zahid in his speech said the presence of PAS is a manifestation that the party did not recognise the Barisan Jemaah Islamiah (Berjasa) candidate who is contesting in the by-election.
"PAS supports the candidate represented by MCA, which greatly heartens us as PAS did not recognise the Berjasa candidate and did not give support to the Berjasa candidate," he said.
Berjasa is an ally of PAS under Gagasan Sejahtera.
Polling for the by-election was set on Nov 16 following the death of Datuk Dr Md Farid Md Rafik, 42, from Pakatan Harapan (PH) on Sept 21 of heart complications.
The contest is a six-cornered fight involving PH candidate Karmaine Sardini, BN represented by Jeck Seng; Wendy Subramaniam (Gerakan), Datuk Dr Ir Badhrulhisham Abdul Aziz of Barisan Jemaah Islamiah (Berjasa) and two independent candidates Dr Ang Chuan Lock and Faridah Aryani Abdul Ghaffar.
--BERNAMA