Working hard, saving money, to buy the 'basikal lajak'

Last Update: 06/11/2019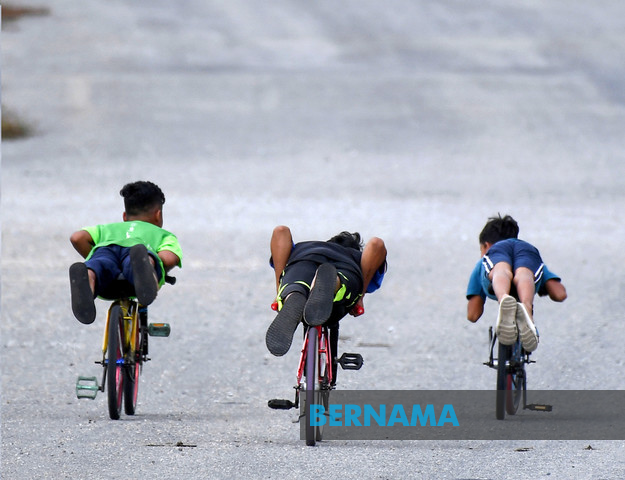 KUALA TERENGGANU, Nov 6 -- Such was their passion for modified bicycle (basikal lajak) activities that there are school children who are prepared to work on a goat farm after school hours.
Others told Bernama that they did not mind going hungry just so that they could save enough money to buy the modified bicycles of their dreams.
Firdaus (not his real name), 14, said he worked on a goat farm from 6 p.m. till 10 p.m., earning RM30 a day, for several months until he saved enough money to buy a 'basikal lajak' which cost about RM400 last March.
However, he said, the bicycle was not for racing on the roads, but only for him to go out cycling with his friends.
"I used to own a regular bicycle but when the trend for 'basikal lajak' started, I worked to get it by saving my pocket money and the money I earned from working part-time.
"My friends and I would ride our bicycles in places where there was no one around as we did not want to take the risk of endangering other road-users, and we never did any stunts on the roads," he told Bernama here today.
His friend Amirul (not his real name), 12, said he designed the 'basikal lajak' he wanted and bought the components by saving the RM5 daily pocket money his mother gave him.
"I fixed the bicycle components myself with the help of my friends," he said, adding that news of 'basikal lajak' activities would be relayed through the Whatsapp application to more than 50 youths in Kuala Terengganu.
According to Amirul, each weekend, members of the group would gather at one place to show off heir bicycles and ride in a convoy.
Meanwhile, Terengganu Traffic Investigations and Enforcement Department chief, Supt Abd Razak Hasan, when contacted, said the 'basikal lajak' menace in the state was not as bad as in other states as it was confined to the villages.
Abd Razak said several years ago, police began taking pre-emptive measures, constantly issuing reminders various community programmes.
"There is a tendency for youths involved in the 'basikal lajak' activities to become 'mat rempit' later as they like to race on the roads. That is why preventive measures must be conducted early," he said.
-- BERNAMA