Al-Sultan Abdullah hands over tithes to 500 recipients

Last Update: 20/10/2019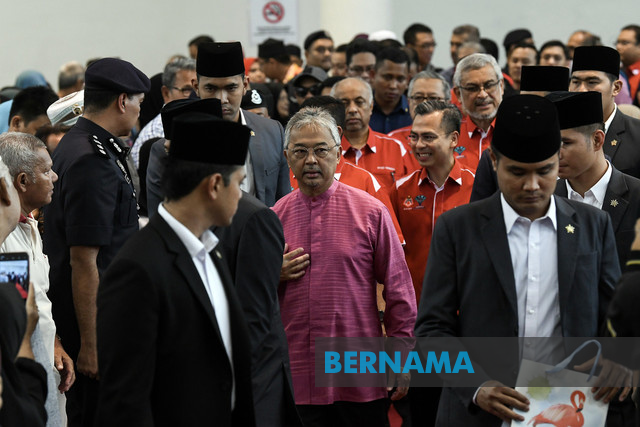 KUALA LUMPUR, Oct 20 -- Yang di-Pertuan Agong Al-Sultan Abdullah Ri'ayatuddin Al-Mustafa Billah Shah consented to handing over tithes and items of daily need to 500 families of tithe recipient groups in the Lembah Pantai area.
The giving of the aid was in conjunction with the 2019 Federal Territories' 'Kembara Rahmah Zakat' programme at the Eco Park Pantai Community Centre, here today.
His arrival at the programme, organised by the Federal Territories Islamic Religious Council (MAIWP). at 11.18 am, was received by the Minister in the Prime Minister's Department Datuk Seri Dr Mujahid Yusof and Federal Territories Minister Khalid Abdul Samad.
Also present and receiving the arrival of the Yang di-Pertuan Agong were Lembah Pantai Member of Parliament Ahmad Fahmi Mohamed Fadzil and MAIWP chairman Datuk Seri Syed Hussien AlHabshee.
In the programme, Al-Sultan Abdullah also handed over aid comprising school uniforms (RM5.1 million), General Schooling Aid (RM9.82 million) and Institutions of Higher Learning General Study Aid (RM12.45 million) which would be distributed to tithe recipients in the Kuala Lumpur Federal Territory.
Al-Sultan Abdullah also consented to shake hands and mingle with the tithe recipients present at the programme before departing at 1.30 pm.
The programme this year involved almost 100 high powered motorcycles and 10 taxis, namely, recipients of the Taxi Hire-Purchase Deposit Aid Scheme who convoyed for a distance of over 30 km in support of the tithe-receiving group.
The convoy started from Taman Metropolitan Batu, subsequently moved to the Al-Mukhlisin Mosque of Taman Alam Damai, Cheras and was received by Bandar Tun Razak Member of Parliament, namely, deputy Transport Minister Datuk Kamaruddin Jaafar and then ended at the Eco Park Pantai Community Centre, Lembah Pantai.
Meanwhile, Mujahid, in his speech, said the programme was the initiative of MAIWP to boost awareness on the pro-active efforts of MAIWP to implement the Muslim development agenda in the Federal Territory, specifically through the distribution of tithes.
''In carrying out the trust of tithe payers, MAIWP has planned numerous tithe distribution activities. Among them, MAIWP, until to date, is offering 28 tithe aid schemes encompassing the aspects of basic needs, education, economy and welfare,'' he added.
--BERNAMA