248 receive Melaka awards, medals and honours at second investiture ceremony

Last Update: 13/10/2019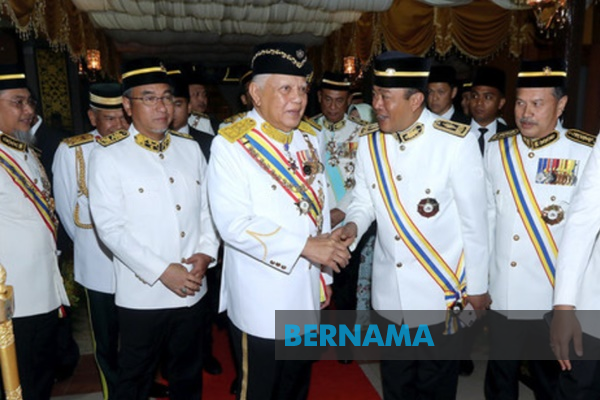 MELAKA, Oct 13 -- A total of 248 individuals were conferred the Melaka state awards, medals and honours in conjunction with the 81st birthday celebration of the Yang Dipertua Negeri Melaka Tun Dr Mohd Khalil Yaakob at the second investiture ceremony at Seri Negeri, Ayer Keroh, here today.
Two of them, namely Assunta Hospital gastroenterologist Datuk Seri Dr L. Suresh Raj and Tobe Property Sdn Bhd executive director Datuk Seri Teo Shiok Fu, received the Darjah Gemilang Seri Melaka (DGSM) award, which carries the title 'Datuk Seri'.
Universiti Teknikal Malaysia Melaka (UTeM) vice-chancellor Datuk Prof Dr Raha Abdul Rahim and Kuala Linggi International Port (KLIP) director Datuk Muhammad Saifullah Noor Noormustafa Kamal were conferred the Darjah Cemerlang Seri Melaka (DCSM) award, which carries the title 'Datuk Wira'.
Three individuals received the Darjah Mulia Seri Melaka (DMSM), which carries the title 'Datuk', namely Department of Irrigation and Drainage (DID) civil engineer Datuk Abdullah Isnin, political secretary to Melaka Chief Minister Datuk Ashraf Mukhlis Minghat and Melaka PKR chairman Datuk Halim Bachik.
Nineteen individuals received the Darjah Pangkuan Seri Melaka (DPSM) award, which also carries the title 'Datuk'.
Among them were Public Services Department (PSD) Service Division director Datuk Abd Shukor Mahmood, National Institute of Public Administration director Datuk Dr Kamarudin Min, Ministry of Housing and Local Government deputy director-general (Management) Datuk Zamri Salleh and senior private secretary to the Yang di-Pertuan Agong Col (Rtd) Datuk Nazim Mohd Alim.
Also conferred today were the Darjah Seri Melaka (DSM) award to 18 recipients, Bintang Cemerlang Melaka (BCM) (16) , Bintang Khidmat Terpuji (BKT) (44), Pingat Jasa Kebaktian (PJK) (90), Pingat Bakti Masyarakat (PBM) (52) and Pingat Khidmat Lama (PKL) (two).
-- BERNAMA