Cops bust luxury car syndicate, nab eight suspects

Last Update: 10/10/2019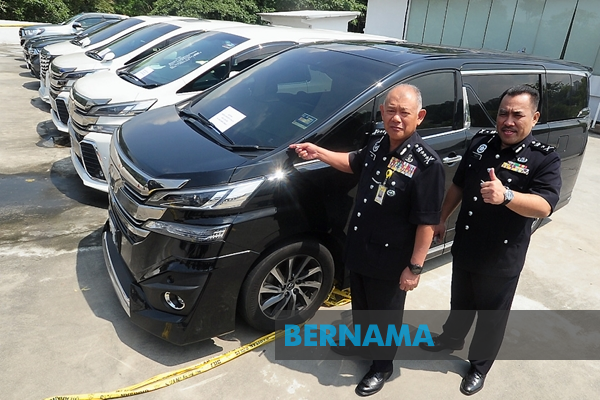 SHAH ALAM, Oct 9 -- Selangor police have busted a syndicate stealing luxury cars in the state with the arrest of eight suspects in a series of raids in the middle of last month.
Selangor police chief Datuk Noor Azam Jamaludin, said the suspects comprising six local men and two foreign women were detained around the state in the Ops Lejang Mewah TODA carried out by the State Criminal Investigation Department.
He said the syndicate suspected of stealing luxury vehicles over the past three months were able to carry out their acts in about five minutes with the sophisticated tools such as the 'smartkey programmer' which they purchased online.
"Initial investigations revealed that the syndicate sold the luxury cars overseas as they were very much in demand and fetched high prices there.
"As such, luxury car owners are advised to have on additional locks in their cars to to reduce the chances of them being stolen. The (theft) process will take longer and they would not want to take that risk," he said at a press conference here today.
Noor Azam said with the bust, police seized eight luxury multi-purpose vehicles (MPVs) of various models, 29 remote controls, 25 fake road tax stickers, one 'signal jammer', one 'smartkey programmer' unit and other devices used to steal cars.
He said the total value of the seized items was estimated at about RM2 million. All the suspects aged between 36 and 52 were still remanded for further investigation.
He added that since the beginning of the year, Selangor police received 80 reports of luxury vehicle thefts. Three syndicates were crippled with the arrest of 15 individuals while 12 vehicles were seized.
-- BERNAMA