Qatar's investments into ASEAN, Malaysia continues despite trade war

Last Update: 09/10/2019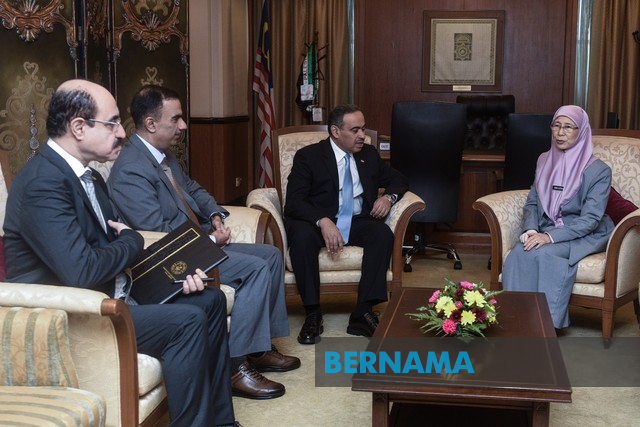 KUALA LUMPUR, Oct 9 -- The prolonged trade war between the United States and China does not affect Qatar's trade and investment into ASEAN countries, especially Malaysia, said Qatar's Commerce and Industry Minister Ali Ahmed Al-Kuwari.
"We are not impacted by it. In fact, we are working much harder and improving our position because Qatar is one of the biggest exporters of liquefied natural gas to Asia, and we will continue to do so," he told Bernama and RTM.
He had earlier paid a courtesy call on Deputy Prime Minister Datuk Seri Dr Wan Azizah Wan Ismail at the Parliament here today.
Also present was Qatari Ambassador to Malaysia Fahad Mohammed Kafoud, together with a delegation from Qatar's Ministry of Commerce and Industry.
Ali is on a two-day working visit to Malaysia to attend the Malaysia-Qatar Joint Trade Committee Meeting, to be held at the Ministry of International Trade and Industry on Thursday.
The meeting is expected to discuss trade and investment cooperation and efforts to boost investments between the two countries, among others.
Several memorandum of understanding in the area of food security and investment promotions will also be signed during the meeting, he said.
Qatar is one of the wealthiest countries in the world in terms of gross domestic product per capita and Malaysia is the country's 24th largest trading partner.
Ali said Malaysia is a very significant market for Qatar, and is confident that the excellent bilateral relation between the countries will remain strong as a result of the great relationship between the Emir of Qatar, Sheikh Tamim Hamad Al-Thani and Prime Minister Tun Dr Mahathir Mohamad.
"We are going to host the World Islamic Economic Forum in Qatar, with Malaysia's support. Without Malaysia, we would not have been able to achieve this," he said.
The minister also welcomed investments from Malaysian companies into Qatar and urged the companies to use the nation as a gateway to other markets such as Africa, Middle East and West Asia.
In 2018, total trade between Malaysia and Qatar rose by 29.3 per cent year-on-year (y-o-y) to RM3.72 billion from RM2.88 billion in 2017.
Exports grew 29.8 per cent y-o-y to RM989.6 million while imports increased 29.1 per cent y-o-y to RM2.73 billion.
From January to August 2019, total trade improved 25.2 per cent y-o-y to RM2.47 billion compared with RM1.98 billion in the corresponding period in 2018.
Exports expanded 43.7 per cent y-o-y to RM994 million from RM691.6 million, while imports increased at a slower pace of 15.3 per cent y-o-y to RM1.48 billion from RM1.28 billion previously.
-- BERNAMA