Contribution by MAF veterans a huge sacrifice

Last Update: 09/10/2019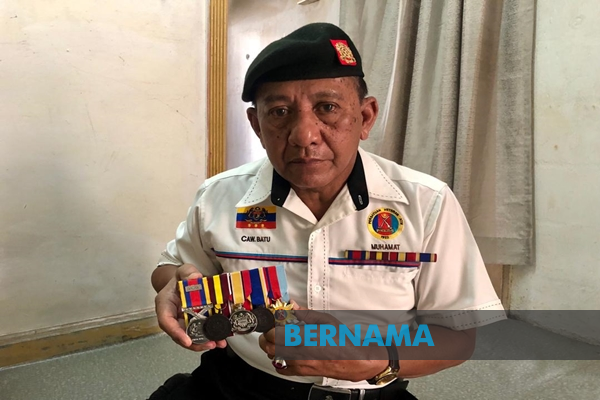 By Mohamad Harith Mohamad Nizar
KUALA LUMPUR, Oct 9 -- The contribution by every veteran of the Malaysian Armed Forces (MAF) in risking their lives for the nation cannot be forgotten.
Recounting an unforgettable moment in his life, Warrant Officer II (R) Muhamat Sular, 77, expressed his gratitude for having survived an ambush by the Indonesian Communist Party (PKI) on Feb 28, 1965 in Sungai Lebam, Pengerang, Johor.
"It was like rising from the dead. The 16 of us were ambushed by about 34 PKI members (at 5.30 pm on Feb 28, 1965), while setting up a camp tent.
"I was seriously wounded while nine others lost their lives. The remaining six scattered for help. I stayed in the jungle for two days and survived on water from the river without food," Muhamat told Bernama when met at his residence in Bandar Baru Sentul here, recently.
Muhamat whose service with the MAF lasted for 22 years since 1964 said it was only on the third day after the incident that assistance from the MAF arrived at the site.
"They came and picked me up. They gave me injections, wrapped the wounds but other parts of my injured body were already badly infected as I had not received medical treatment for two days," said the retired army who hailed from Jasin, Melaka.
Due to the incident, Muhamat became physically disabled and unable to lift anything heavy
He hoped that donations from the Warriors Fund 2019 campaign would be equally distributed to all who were eligible.
"The Warriors Fund should be equally disbursed, and nobody should get more or less," he said while expressing gratitude for whatever amount he would be getting to ease the burden.
Meanwhile, Staff Sergeant (R) Abu Seman Ahmad, 72, fondly known as Pak Abu when met at his home in Kampung Malaysia Tambahan here, recalled Ops Doyai Musnah in 1977 which almost cost him his life.
He said the operation to remove communists from the Malaysia-Thailand border in Perak had also threatened the life of one of his officers when another of his comrades stepped on a booby-trap.
"The booby-trap was planted on the bank of a river, the officer was hit with the splinter in the chest because he was facing the river, I was hit in the spine.
"I had to undergo surgery twice to remove the splinter and thankfully (at the time of the incident) there were no deaths, only injuries. If we had been directly hit, we could have died, or lost our legs," said Pak Abu who served the MAF for 21 years since 1969.
Pak Abu also hoped that aid from the Warriors Fund would be given once a month to ease their burden as the pension alone would not be enough to make a living.
Pak Abu who sustained leg injuries due to a road accident in 1999 is an OKU (person with disabilites).
Sergeant (R) Abdullah Yasin, 71, who served the MAF for 28 years when met at his residence here, was bedridden due to stroke since last March.
Accompanied by his youngest daughter Fatimah, 56, he said he did not have high expectations from the Warriors Fund but regarded each donation as a blessing.
"My children have helped a lot. We do not expect anything but would be so thankful to receive anything from Tabung Pahlawan," he said.
Prime Minister's wife Tun Dr Siti Hasmah Mohamad Ali launched the Warriors Fund campaign on Sept 19 aimed at collecting funds to assist veterans of the MAF and their family members
Donations to the fund can be made through its Affin Bank account 1059-5000-3201, under the name 'Tabung Rayuan Hari Pahlawan'.
-- BERNAMA