Traditional twist to night run as 2,500 runners took over Penang Second Bridge

Last Update: 16/09/2019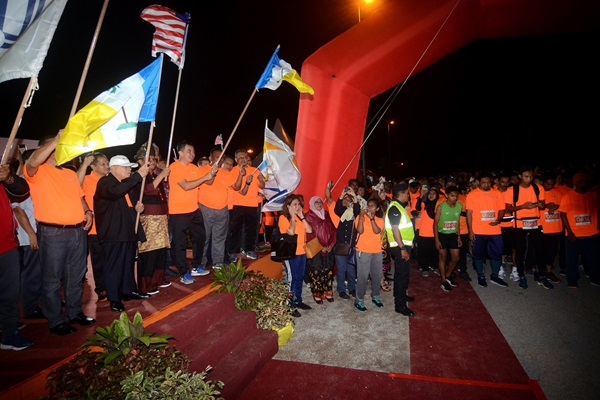 GEORGE TOWN, Sept 16 - Some 2,500 runners participated in the 'LLM Maju Cultural Night Run' and had the time of their lives as they run clad in their best traditional outfits at the Sultan Abdul Halim Mu'adzam Shah Bridge here.
The 7-kilometre run which began last night, also saw Penang Chief Minister Chow Kon Yeow and other state leader joining in the fun.
The inaugural run which ended early this morning was officiated by Penang Yang Dipertua Negeri Tun Abdul Rahman Abbas.
Domestic Trade and Consumer Affairs Minister Datuk Seri Saifuddin Nasution Ismail and Deputy Works Minister Mohd Anuar Mohd Tahir also took part in the event co-organised by the Malaysian Highway Authority (LLM), Koperasi LLM Berhad, the state government and Jambatan Kedua Sdn Bhd (JKSB).
Mohd Anuar said based on the encouraging response from the participants of various races and religions, the run would be organised annually, with aims to foster unity and also as a tourism activity.
"This run can give a quick insight on the cultural diversity enjoyed by Malaysians to foreign tourists, while also promoting the Sultan Abdul Halim Mu'adzam Shah bridge as the route of choice to Penang," he said to Bernama, when met after the run.
Mohd Anuar who sported a Malay traditional costume complete with a head gear, hoped that more government agencies and corporate companies would come forward and organise similar fun activities featuring the traditional Malaysian attire to promote the cultural and racial diversity of the country.
"I see many participants having fun running together to the finish line clad in their colourful traditional outfits," he said.
The running event was made even merrier with arts and cultural performances in addition to several activities highlighting the pluralistic Malaysian society, both on the main stage and also along the route of the run.
Special prizes were presented to 10 best dressed runners, five prizes for the eldest participants and 10 prizes for schools with the most participants, among others.
-- BERNAMA