Tanjung Bungah 2017 landslide: Penang local councils to discuss commission's recommendations

Last Update: 29/08/2019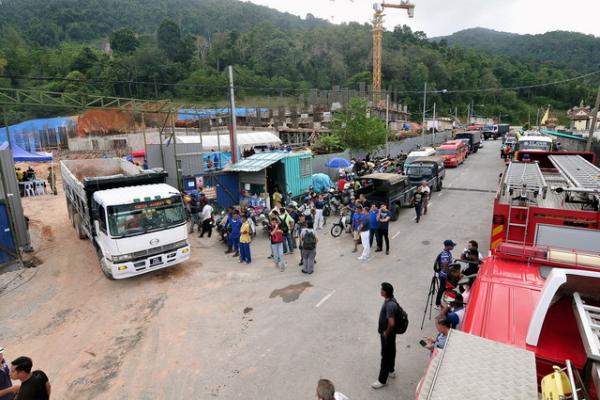 GEORGE TOWN, Aug 29 -- A team led by Penang executive councillor Jagdeep Singh Deo will discuss with the related agencies on the recommendations made by a Commission of Enquiry for a landslide incident which killed 11 workers at Tanjung Bungah near here two years ago.
Announcing this today, Penang Chief Minister Chow Kon Yeow said there were several recommendations that the local councils and other local authorities should look into to prevent such mishap, which occured at Lengkok Lembah Pantai, Tanjung Bungah on Oct 21, 2017, from recurring in the future.
"I have directed the Town and Country Planning Department, Penang Island City Council (MBPP), Seberang Perai Municipal Council (MPSP) and other related agencies to hold a meeting with regard to the hillside (development) guidelines and other matters that the commission feels the council should look into.
"YB Jagdeep will be leading the team to look through the recommendations and in one month's time they will report back to the State Planning Committee on what are the actions the council proposes to take to improve the guidelines and processes to ensure that such incident are not repeated," he told a press conference here.
Yesterday, Chow presented the 116-page of the commission's report on the work site incident at Tanjung Bungah which also contained nine recommendations for the prevention of future incidents of such nature.
Among others, the commission recommended MBPP to immediately draw up and enforce a policy that no development project should be allowed to commence any work (including earthworks), unless and until a qualified resident engineer had been employed and stationed at the site to supervise construction works.
The commission also recommended for the Safety Guideline for Hillside Development 2012 to be amended, to make it applicable to any and all slopes (whether permanent or otherwise), natural or man-made (and whether existing or only to be formed later during construction), which has (or is intended to have) any flight above the gradient of 25 degrees.
The findings of the Commission also show that the slope failure was a man-made tragedy which was entirely preventable.
In the 8.57 am incident, the landslide at the hill slope project claimed the lives of a local resident, five Bangladeshis, two Indonesians, two Myanmarese and a Pakistani.
-- BERNAMA