Two senior citizens run 500km for National Day

Last Update: 23/08/2019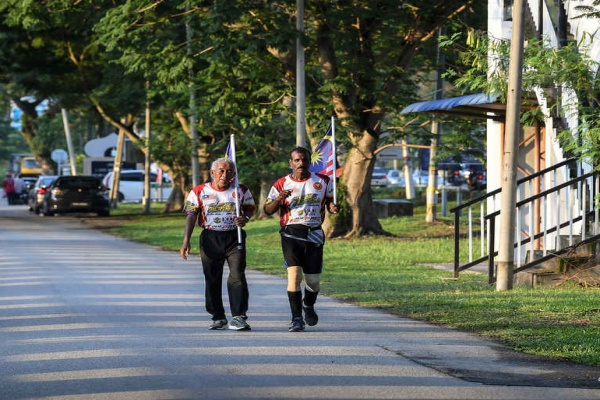 ALOR SETAR, Aug 23 -- Being senior citizens do not hinder two buddies from running 540 km from Dataran Alor Setar here to Shah Alam, Selangor in conjunction with a Merdeka Run to fete the National Day.
Nasir Abas, 64, or warmly called 'Pak Nasir' said that he and his pal, a retired soldier, Krishnan Andy, 61, would perform the run, which would take 12 days, to exhibit a spirit of love for the country.
''This is the third time we are running together in conjunction with the national day celebration. There is no problems from the aspect of preparation because I run from 20 to 30 kilometre (km) daily, so I feel there is no problem to complete the run.
''My advanced age is no hindrance because the main aim of the run is to instill a patriotic spirit regardless of race, religion and politics because we want all to appreciate the month of independence,'' he told reporters before commencing the run here today.
Nasir and Krishnan started the run after the flagging off by State Youth and Sports, Tourism, Arts, Culture and Entrepreneurial Development Committee chairman Mohd Asmirul Anuar Aris today at 8.30 am at Dataran Alor Setar.
Nasir, who is also the 'imam' at the Al Hijrah Surau, in Kuala Kedah said the run would involve 12 check points, and upon completion, it would be entered in the Malaysia Book of Records as being the first senior citizens to run more than 500km.
Meanwhile, Krishnan, who hurt his leg at a run last year, said he made a more detailed preparation this time especially in terms of health and fitness.
"I underwent an examination and the doctor said that everything is well. So, there is no problem for me to run. From the aspect of our diet, we will avoid drinking cold water and eating oily food to safeguard our performance during the run,'' he added.
-- BERNAMA