Joy all around as HHRD distributes sacrificial meat to Rohingya community

Last Update: 13/08/2019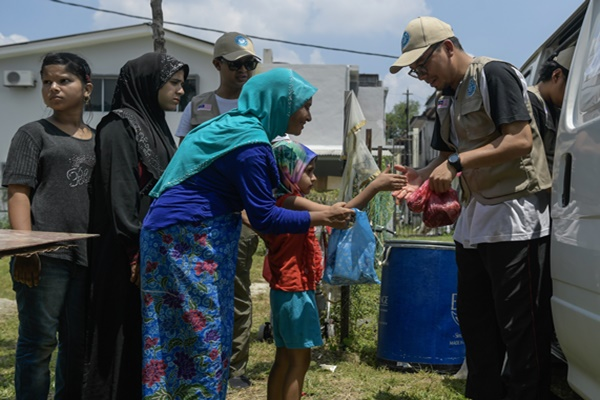 KUALA LUMPUR, Aug 13 (Bernama) -- A United States-based humanitarian relief and development organisation brought cheer to some 400 Rohingya refugee families in the Klang Valley today by distributing sacrificial meat in conjunction with the Aidiladha celebration.
The event took place at the Madrasah Alrabbaneeyah in Ampang here, thanks to contributions channelled to the Helping Hand for Relief and Development (HHRD) which operates out of Michigan. Malaysia marked Aidiladha on Sunday.
A spokesman from the Rohingya community, Hilal Ahmed Enan Amin said the sacrificial meat received was meaningful as it was a gift from an unexpected country source.
"We never expected them (Americans) to think of us. We are really grateful to everyone, including the HHRD team that came over to distribute the meat," he told Bernama.
For recipient, Banu Abdullah, 39, the meat received was another reminder of how Malaysians and other communities around the world shower the unfortunate with kindness.
"My children and husband will be asking for various types of dishes with the meat we received, and beef soup will be their favourite, for sure. Back home those days, we really could not afford beef as it was too expensive. But we get to consume it over here and for that, we are grateful," the mother of five, who has been in Malaysia for the last 10 years, said.
Nur Khaidah Imam Hussain, 15, meanwhile, was excited over what her family had received, adding that back home, halal meat was only available in places located far from her village.
HHRD Malaysia manager, Khairul Amar Razali said the concept of Islamic brotherhood formed the basis of the sacrificial meat distribution programme, adding that HHRD admired Malaysia's role in being among the frontliners when it comes to aiding and protecting refugees.
He said for this year's programme in Malaysia, HHRD successfully collected RM200,000 and this initiative was a testimony of the American Muslim community's support for Malaysia in protecting and aiding the Rohingya community.
The three-day meat distribution programme was also extended to more than 200 recipients from the People's Housing Project in Lembah Subang 2 in Petaling Jaya, Seri Pantai in Pantai Dalam and PPR Sri Pahang in Bangsar.
The programme will continue tomorrow in Klang and Kuala Lumpur to reach out to more members of the Rohingya community.
-- BERNAMA