Penang govt wants part of PTMP to be federal projects

Last Update: 25/07/2019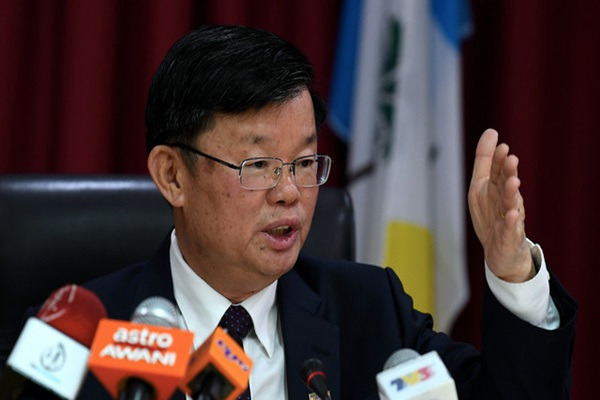 GEORGE TOWN, July 25 (Bernama) -- The Penang state government will continue all efforts to enable a part of the projects in the Penang Transport Master Plan (PTMP) to be turned into federal government projects.
Chief Minister Chow Kon Yeow said that if infrastructural projects under PTMP received federal government financings, it would enable the state government to make changes to the original plan including considerations on the Penang South Reclamation (PSR) project in the waters south of Penang.
''But it is too early to say at this stage that 'Yes, we can secure federal government allocation'. But then, the executive council meeting last week had decided that we will write an official letter to the federal government to request federal allocations for one or two projects.
''One of the priorities is the Light Rail Transit (LRT) and second is the Pan Island Link 1 Highway Project (PIL1) which, if turned into federal projects, the consideration on the sea reclamation can be reviewed in terms of scale, size, period of implementation and others,'' he told a media conference, here today.
Earlier, Chow held a meeting with Parti Keadilan Rakyat (PKR) president, Datuk Seri Anwar Ibrahim at a briefing by SRS Consortium over the proposal to implement the PTMP project in the state.
The briefing was a follow-up to a meeting between Anwar and over 200 fishermen, residents and non-government organisations to listen to the true grouses of residents who were affected by the PSR issue.
Chow said the letter seeking the federal allocation would be handed to the Prime Minister Tun Dr Mahathir Mohamad and Finance Minister Lim Guan Eng soon.
He said that the state government would continue to hold open consultations with the fishermen to receive proposals, views and criticisms.
''We will scrutinise the views including the main issues so that a fair deal be given to those that maybe impacted by the project, and we will also accept proposals if this transportation project can be funded by other sources, can be considered,'' he said.
Meanwhile, Anwar said that he supported the effort of the Penang government to obtain fund from the federal government to finance part of the projects under PTMP.
''On behalf of Keadilan, I urge PKR leaders in the state and several other people to listen to the sighs of the affected civil society and fishermen and to submit them in an internal forum for the consideration of the state government and Chief Minister,'' he said.
The PTMP project is an initiative of the state government which is estimated to cost RM46 billion, encompassing an undersea tunnel connecting the island to the mainland, highway, LRT, monorail and a bus network on the island and Seberang Perai.
-- BERNAMA