Sarawak CM pays last respects to late James Dawos

Last Update: 10/07/2019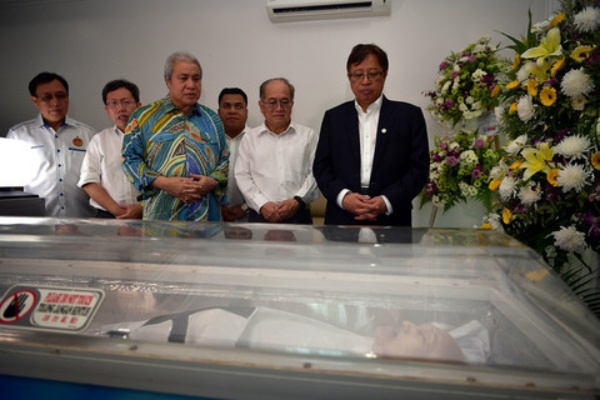 KUCHING, July 10 (Bernama) -- Sarawak Chief Minister, Datuk Patinggi Abang Johari Tun Openg today paid his last respects to former Deputy Minister of Energy, Green Technology and Water, Datuk Seri Dr James Dawos Mamit at his home in Taman Stutong Indah, Jalan Setia Raja, here, today.
He was accompanied by two of his deputies, Datuk Amar Douglas Uggah Embas and Datuk Amar Awang Tengah Ali Hasan.
Abang Johari, who is also Parti Pesaka Bumiputera Bersatu (PBB) president, was received on arrival by Dawos' wife, Datin Seri Christine Dawung Narub and Serembu assemblyman, Miro Simuh.
State Cabinet ministers seen paying their last respects included Utilities Minister, Datuk Seri Dr Stephen Rundi Utom; Local Government and Housing Minister, Datuk Dr Sim Kui Hian; and Education, Science and Technological Research Minister, Datuk Seri Michael Manyin Jawong.
Also present were Assistant Minister for Native Land Development, Datuk Roland Sagah Wee Inn; Acting Deputy State Secretary Datuk Ik Pahon Joyik, who is also president of the Dayak Bidayuh National Association; and Bukit Semuja assemblyman, John Ilus.
Dawos, a former PBB Supreme Council member and former four-term parliamentarian, died on July 8 at age 70 from nasal cancer. He is survived by his wife, three sons and seven grandchildren.
-- BERNAMA