Kedah Raja Puan Muda visits abandoned baby at hospital

Last Update: 07/07/2019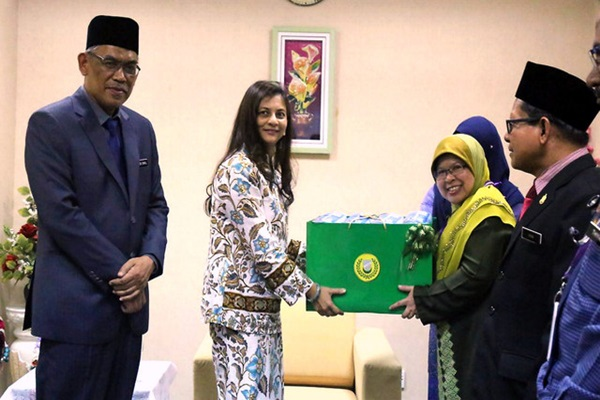 ALOR SETAR, July 7 (Bernama) – The Raja Puan Muda of Kedah, Che Puan Muda Zaheeda Mohamad Ariff today visited a baby boy who was abandoned at Jalan Jelai, here Wednesday, at the neonatal intensive care unit (NICU) of Sultanah Bahiyah Hospital (HSB), here.
Her arrival at NICU was greeted by State Health, Rural Development, Religion and Government-Linked Companies Committee chairman, Datuk Dr Ismail Salleh and HSB deputy medical director Dr Sarimah Sudin.
The Raja Puan Muda of Kedah spent about 40 minutes with the baby before handing over assistance in the form of powdered milk, disposable diapers and baby clothes to the hospital.
In a statement, Che Puan Muda Zaheeda hoped mothers-to-be with problems would seek help from the right channels to prevent the incident from recurring.
She also advised those concerned to call 'Talian Kasih' at 15999 provided by the government to safeguard the welfare and safety of innocent babies.
Meanwhile, Dr Ismail hoped that the surrounding community would take a lesson from the case and continue to raise the exposure of sex education among students.
"The Raja Puan Muda of Kedah wants more focus on the role of the family in educating children as well as the need to stress on religious education, but they should be given knowledge about sex education in order to curb such incidents.
"This is what she said as she is very concerned about this issue," he told reporters after Che Puan Muda Zaheeda's visit.
On Wednesday, a new-born baby boy with umbilical cord attached was found alive in a box by the roadside near a primary school here at 8.20 am.
The baby was found by a 40-year-old man, about 100 meters from Sekolah Kebangsaan Darul Hikmah, Jalan Jelai.
-- BERNAMA