RM3.8 million repair works for SK Seri Paya, SK Parit Markom in Johor

Last Update: 12/06/2019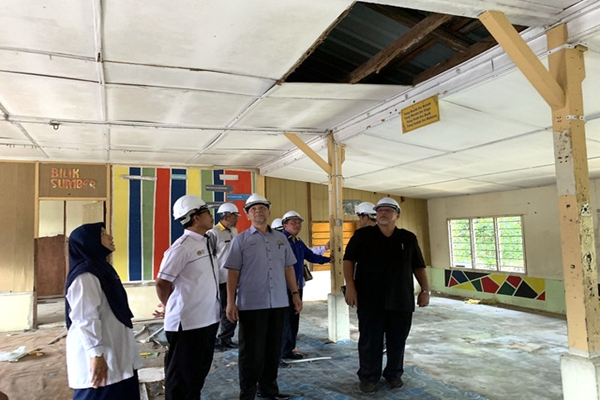 BATU PAHAT, June 12 (Bernama) -- Two schools in Johor suffering from critical infrastructure damage have received RM3.8 million in allocations for repair works for the comfort of the 500 students there.
State Public Works, Infrastructure and Transportation Committee chairman Mohd Solihan Badri said repair works on Sekolah Kebangsaan (SK) Seri Paya in Batu Pahat and SK Parit Markom in Pontian will begin on June 17 and is expected to take between 24 and 26 weeks to complete.
The projects are necessary after the schools' sewerage systems were damaged, besides suffering from bad termite infestation as well.
"Both schools are experiencing level seven damage which require immediate repairs so that school sessions are not disrupted.
"One of the ceilings in SK Seri Paya has collapsed, forcing some of the students to learn in the canteen area," he told reporters at the the project's Letter of Acceptance (SST) and Contract Documents (2 In 1) ceremony at the school today.
Also present were State Education, Human Resource, Science and Technology committee chairman Aminolhuda Hassan, Johor Education Director Azman Adnan and Johor Public Works Department Director Mohamad Salleh Abu.
Meanwhile, Aminolhuda said the state government has identified five more schools that needed infrastructural upgrading work by next year.
He said the state government has filed in the necessary applications to the Ministry of Education for funding, but added that repair works for those schools, however, were not as critical as the ones needed in SK Seri Paya and SK Parit Markom.
-- BERNAMA