Student killed, 20 hurt in bus-SUV accident - Police

Last Update: 23/05/2019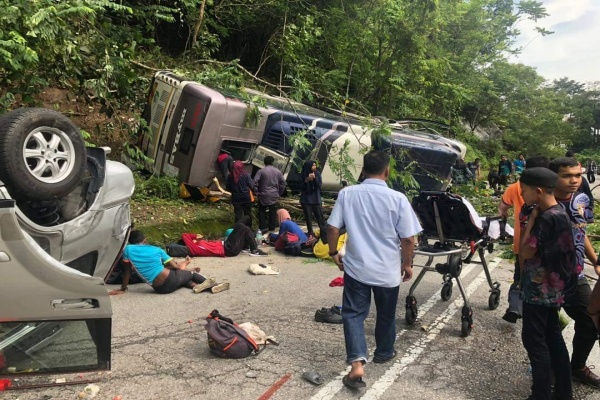 SEREMBAN, May 23 (Bernama) -- A student died while another 20 more were injured in an accident involving a stage bus and Nissan X-Trail sports utility vehicle in Jalan Pantai-Bukit Tangga, Jelebu, this evening.
Negeri Sembilan Traffic Enforcement and Investigations Chief Supt Ibrahim Mohd Abdul Kadir said police have yet to ascertain the level of injuries sustained by the affected victims in the 4pm incident.
"Investigations are ongoing and full details will follow," he told Bernama, today.
Meanwhile, in an update, Majlis Amanah Rakyat (MARA) confirmed that 12 students from its Mara Junior Science College in Kuala Klawang were involved in the crash.
The MARA Corporate Communications Division, in a statement issued this evening, said six of them were sent by ambulance to the Jelebu Hospital while five more who sustained minor injuries were treated at the Jelebu Health Clinic.
"Also, a Form Four student was given treatment at the Tuanku Jaafar Hospital in Seremban," the statement read.
MARA also thanked rescuers and health ministry staff for their prompt assistance, adding that their professionalism while carrying out their duties was greatly appreciated.
At the same time, MARA was doubling its efforts to ensure medical treatment and the conditions of the affected students were being monitored closely.
-- BERNAMA