MASwings inks aircraft component support agreement with AFI-KLM

Last Update: 15/05/2019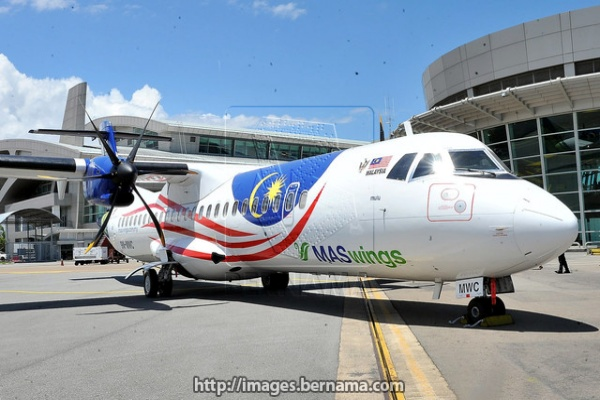 KOTA KINABALU, May 15 (Bernama) -- MASwings has entered into a component support programme with Air France Industries-KLM Engineering and Maintenance (AFI-KLM E&M) for its fleet of 10 ATR 72-500s as part of efforts to meet its key performance indicators (KPIs).
The Malaysia Airlines subsidiary, which operates as a regional airline in Sabah, Sarawak and Labuan, today signed a five-year agreement, effective May 8, 2019, with the maintenance, repair and overhaul (MRO) service provider.
Under the agreement, maintenance for its aircraft will be handled at AFI-KLM E&M's bases in Singapore.
Signing on MASwings' behalf was chief executive officer Aminuddin Zakaria while AFI-KLM E&M was represented by its vice-president for sales (Asia-Pacific) Dominik Wiener-Silva.
The signing ceremony here was witnessed by Sabah Deputy Chief Minister Datuk Wilfred Madius Tangau, who is also Sabah Trade and Industry Minister.
Speaking at the event, Aminuddin said the agreement marked another milestone in the airline's quest to improve its rural air services for the people of Sabah, Sarawak and Labuan.
MASwings has been given the mandate by the government to continue its operations in the region from January 2019 to December 2024 under the new Public Service Obligation (PSO) Agreement for Rural Air Services inked a few months ago.
Under the PSO agreement, MASwings is allowed to operate 39 routes using 10 ATR 72-500s as well as six DHC6-400 Viking aircraft.
Aminuddin said the government had imposed KPIs on MASwings in terms of delivering the services and the set KPIs covered crucial areas, including on-time performance, cancellation rate and consumer satisfaction.
"Hence, moving forward, MASwings is geared towards ensuring its operations within Sabah, Sarawak and Labuan meet the expectations of the government and the people at large.
"As a result, today's signing agreement is very crucial to MASwings' operations as we are now working closely and engaging with the experts on ATR component support programme within this region to provide a one-stop centre for our fleet of ATR 72-500 aircraft," he said.
Aminuddin said MASwings was confident the agreement would further enhance the reliability record of the company's aircraft, and on-site spares would always be available to support the operations, thus avoiding a situation where aircraft had to be grounded.
Through this effort, MASwings would always get the latest standard components as all the repairs and modifications would be undertaken solely by the AFI-KLM E&M centre, he said.
"With this latest milestone of agreement and engagement with AFI-KLM in providing ATR component support, MASwings is confident of meeting the KPIs set by the government and this will provide a positive impact on the state's (Sabah) business and trade, especially in the tourism market," he said.
Aminuddin said the agreement would also help pave the way to achieve Sabah's ambition of becoming an aviation hub by supporting the ecosystem of MRO using the Kota Kinabalu Industrial Park as the main enabler towards the project.
-- BERNAMA

RBN RBN MHFD