Volvariella mushroom farmers in Kulim generates good income

Last Update: 01/05/2019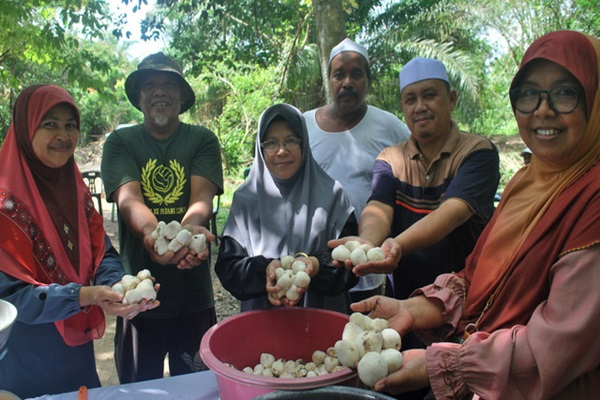 KULIM, May 1 (Bernama) --- With an initial capital of not more than RM50 for each 4.5-meter cultivation medium, Volvariella mushroom producers in Sungai Kob here are now able to generate profit twice the amount every month as their side income.
The patron of the Sungai Kob Volvariella mushroom farmers association, Ahmad Zaki Sabawehi said the mushroom was cultivated by 12 members of the association since last month with a capital of as low as RM50.
"The associations purchased oil palm waste bunches from nearby plantation with a price of RM10 per tonne and made it into a crop medium in the form of planting beds and share the seeds and expertise in order to minimise the participants' initial capital," he told Bernama at the launching of the Volvariella mushroom project at Sungai Kob today.
He said every participant in the Volvariella mushroom project was able to earn between one to three kilogrammes a day from one plant medium, while the selling price of this mushroom is between RM12 and RM15 per kilogram.
Other than that, the mushrooms are planted organically without the use of fertilizers or any chemicals.
"This mushroom only depends on nutrients from palm oil bunches that are fermented for seven days after watering, then it will be sown in 30 days before it can be harvested every day for about 60 days," he said.
--BERNAMA