Outcome of state ministerial motion will determine re-tabling of proposed amendment bill

Last Update: 29/04/2019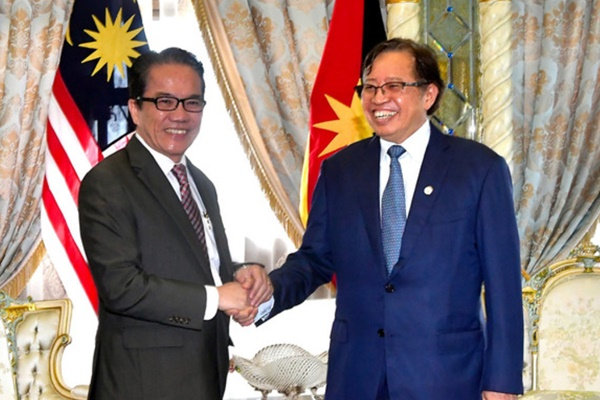 KUCHING, April 29 (Bernama) – The re-tabling of the proposed amendment to Article 1 (2) of the Federal Constitution will rest on the decision of the ministerial motion on the issue to be tabled in the state legislative assembly sitting tomorrow.
Minister in the Prime Minister's Department Datuk Liew Vui Keong said he was very positive about the issue, which concerned the restoring of the status and rights of Sabah and Sarawak based on the Malaysia Agreement 1963 (MA63).
"We want to see what happens tomorrow because these are the voices from the people that are channeled through their elected representatives (YBs) in the Sarawak Legislative Assembly… So we shall wait and see," he told reporters after paying a courtesy call on Chief Minister Datuk Patinggi Abang Johari Tun Openg here today.
Also present was Deputy Chief Minister Datuk Amar Douglas Uggah.
The ministerial motion will be debated tomorrow after it is being tabled by Assistant Minister of Law, State – Federal Relations and Project Monitoring Sharifah Hasidah Sayeed Aman Ghazali in the state assembly sitting which convened today.
On the fruitful meeting with the Chief Minister, he said Abang Johari was very passionate about wanting to ensure the rights of not only Sarawakians but also counterparts from Sabah, were well preserved pursuant to MA63.
Liew said the historical facts pursuant to MA63 remained the same, with Sarawak having the 18-point agreement and Sabah the 20-point agreement that could not be altered although it could be subjected to certain interpretation on certain provisions.
The federal government's intentions to amend Article 1 (2) of the Federal Constitution on April 9 did not bear fruit as opposition MPs from Sarawak abstained from voting, arguing that it be referred to a Special Select Committee, the Sarawak Legislative Assembly or Yang di-Pertuan Agong.
On another matter, Liew said the judiciary had put on hold its decision to relocate the Office of the Registrar of the Sabah and Sarawak High Court from Kuching to Kota Kinabalu at the moment.
He said the decision also took into consideration that the Chief Minister had made a strong objection to the relocation and was not consulted as required under Article 121(4) of the Federal Constitution.
The recent decision to relocate High Court Registry was made by the former Chief of Justice under the previous government, a matter that he was unaware of until it caused an uproar in the media, particularly among Sarawak politicians, added Liew.
-- BERNAMA