Penang needs new state assembly building and administrative centre - Governor

Last Update: 26/04/2019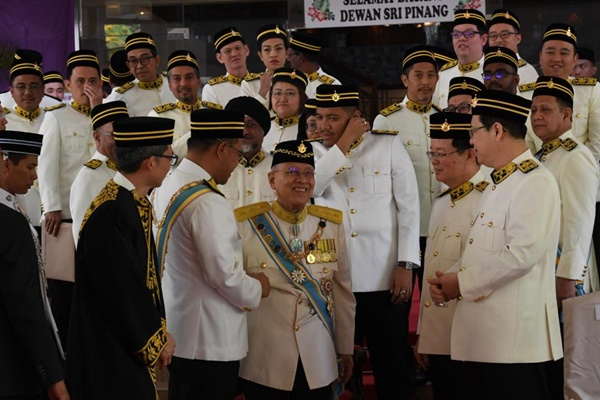 GEORGE TOWN, April 26 (Bernama) -- The Penang government should build a new state assembly building, located within a new state administrative centre, to cater to the rapid growth of the state, Yang Dipertua Negeri Tun Abdul Rahman Abbas said today.
He said the existing state assembly building has seen better days as it has been in use since 1959 when there were only 24 state assemblymen, but the number has increased to 40 now.
"The rapid growth of Penang, increased demands and the need to provide better services to the people cannot be denied. Thus the current space is no longer adequate or suitable to cater to the higher number of state assembly seats.
"I hope the state government will seriously consider this proposal in the interests of the state assembly, state assemblymen, duty officers, media personnel and other requirements," he said when opening the first meeting of the second session of the 14th State Legislative Assembly here.
On the proposed state administrative centre, Abdul Rahman said a fire at Kompleks Tun Abdul Razak (Komtar), which has served as the state administrative centre since 1986, has shown the need for a new complex.
He said the new state administrative centre could be built on reclaimed land owned by the state government.
Abdul Rahman also said that the provision of affordable housing was the biggest challenge for the state government but it had fulfilled its commitment by providing comfortable and adequate housing for the B40 and M40 groups.
"I am very glad to learn that the state government has fulfilled its commitment by providing comfortable housing, and since 2008 a total of 29,294 units of affordable houses in categories A, B and C have been built. A total of 23,222 units are under construction and 48,017 units are in the planning stage," he said.
On tourism, Abdul Rahman said he hoped that heritage products would be promoted alongside other attractions in conjunction with the Visit Penang Year 2020.
"This will enable the state government's 'Experience Penang 2020' campaign, with the tagline 'Celebrate Asia's Diversity', to inspire tourists to Penang in various aspects like culture, heritage, arts, food and nature," he said.
He advised all state assemblymen to observe the rules and standing orders of the House to ensure that they could make the best use of the opportunity given them to represent the people. The House will sit again on Monday.
-- BERNAMA