Everyone deserves chance to gain knowledge, including the chronically ill - Dr Siti Hasmah

Last Update: 23/04/2019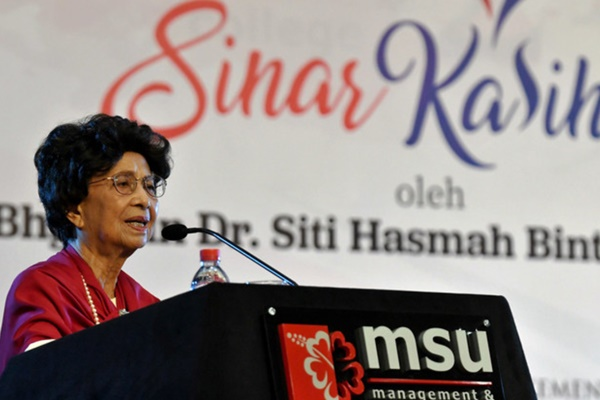 SHAH ALAM, April 23 (Bernama) -- Everyone should be given the chance to gain knowledge, especially students suffering from chronic illnesses, said Prime Minister Tun Dr Mahathir Mohamad's wife, Tun Dr Siti Hasmah Mohd Ali.
She said this special needs group deserved support and encouragement for them to realise their dreams, which were dashed due to their health condition.
"We often do not see them or forget their existence in our society, but we know that this group of people are looking for help from us. If we realise that there are people not as fortunate as us, we should extend a helping hand.
"Although they are sick, they still have the right to education and have their own ambitions, talents to improve themselves just like their friends. They can't go to school for some reason and we can help them because, with Allah's will, if they are healthy in the future, they will be able to continue their studies at a higher level," she said.
Dr Siti Hasmah, who is also the president of KASIH Malaysia, the welfare association of the wives of Pakatan Harapan Cabinet ministers, said this when launching the Sinar KASIH Programme at the Management & Science University (MSU) here today.
Also present were Foreign Minister Saifuddin Abdullah, Primary Industries Minister Teresa Kok, Domestic Trade and Consumer Affairs Minister Datuk Seri Saifuddin Nasution Ismail, Agriculture and Agro-based Industry Minister Datuk Salahuddin Ayub, Health Minister Datuk Seri Dr Dzulkefly Ahmad, Federal Territories Minister Khalid Samad, KASIH Malaysia deputy president Datin Seri Shamsidar Taharin, Sinar KASIH programme director Datin Norlin Shamsul Bahri and MSU president Prof Tan Sri Dr Mohd Shukri Ab. Yajid.
Sinar Kasih is a home coaching programme for students with special needs, especially high school students suffering from chronic illnesses and people with disabilities (OKU).
It also serves to help the students, in educating them by providing advice, counselling and other services.
Commenting further, Dr Siti Hasmah hoped the programme would benefit society at large.
She also shared her experience of once caring for a 17-year-old OKU (spastic) with the characteristics of a 10-year-old.
"I cared for and watched him do sculpturing, drawing and I felt more attached to him, unfortunately he passed away. After that I could not be involved anymore because I was emotionally attached to the boy.
"Because of that, I advised teachers who are chosen to understand these students' sensitivities and that the teachers be emotionally strong as well. If teachers are also emotionally unstable, how are they going to teach their students?" she said.
Meanwhile, Norlin said the programme, which is a collaboration with KASIH Malaysia, MSU and the Education Ministry, involved two students each from 46 Parliamentary constituencies.
"Later in the future we may expand it to all Parliamentary constituencies," she said.
The Sinar KASIH pilot project will see selected Form Four students undergoing teaching modules prepared by MSU involving Bahasa Malaysia, English, Mathematics, Science and History subjects over a two-year period and led by a teacher acting as programme coordinator.
-- BERNAMA