Penang padi farmers receive RM303,875 incentive this season

Last Update: 20/04/2019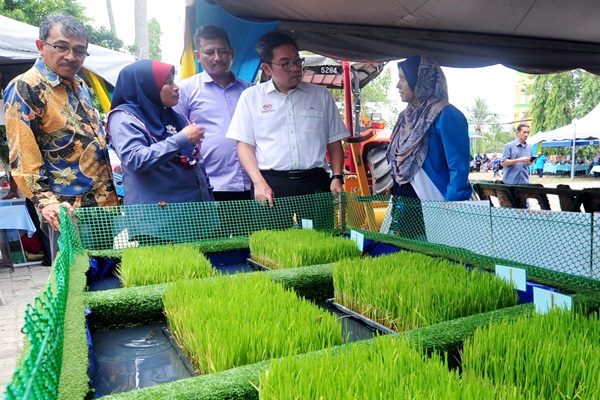 KEPALA BATAS, April 20 (Bernama) -- The Agriculture and Agro-based Industry Ministry today handed Padi Planting Management Model Plot incentive of RM303,875 to padi farmers in Penang.
Its deputy Minister, Sim Tze Tzin said the padi farmers who received the incentive were picked based on areas which were identified as having low harvests, namely, less that five metric tonnes per hectare due to problems of land, weeds, pests and diseases.
''The padi disease, Bacterial Panicle Blight (BPB) has threatened the padi planting industry and has spread nationwide. It can impact on 70 to 75 per cent of padi output. A total 653 ha of the 12,780 ha padi area in the state is affected by BPB. Nevertheless, it is still under control,'' he said.
He said this at a media conference after opening the 2019 Penang State Level Campaign on Using Authorised Padi Seeds here today.
According to Sim, the use of padi seeds from unauthorised producers, imported padi seeds and using traditional method of producing own padi seeds were some of the factors in the proliferation of the BPB disease in the country.
Sim said authorised padi seeds which were given by the Ministry to padi farmers must undergo a process of high standards and received the confirmation of the Agriculture Department and Malaysian Agriculture Research and Development Institute (MARDI).
''Factories producing authorised padi seeds are also stringently supervised and the government gives a high subsidy to authorised padi seeds. If the padi famers use non-authorised padi seeds, the outbreak of disease cannot be detected and eventually not only damage their own crops but also the surrounding padi fields,'' he said.
He said the government targeted the production of 72,000 metric tonnes of authorised padi seeds a year to accommodate a padi planting area of 284,000 ha nationwide.
In the meantime, Sim advised padi farmers to be more alert and responsible in conducting their own farming activities.
He said subsidy and aid would still be continued to farmers, albeit with some changes, although Malaysia was facing budget constraints.
He also stressed that all quarters must cease and desist from disseminating false news on the alleged withdrawal and cancellation of aid to farmers after the new government took over.
-- BERNAMA