Government to reduce red tape over fishing licence transfer - Salahuddin

Last Update: 15/04/2019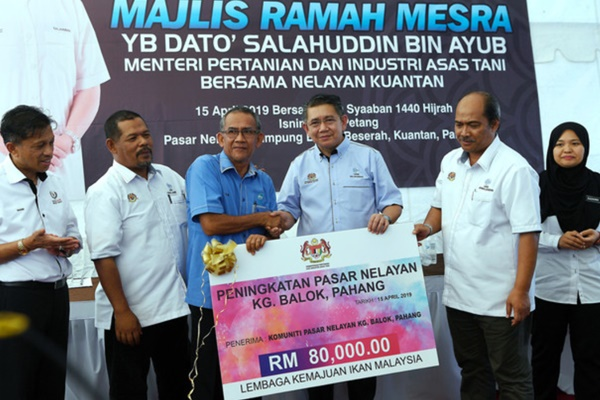 KUANTAN, April 15 (Bernama) -- The government intends to reduce the bureaucratic red tape in the transfer of the fishing boat licence from fishermen to their children.
Agriculture and Agro-based Industry Minister Datuk Salahuddin Ayub said ailing fishermen have complained that they have to run up and down numerous times to government offices for the transfer process.
"We want the children who can go to sea to fish to be able to use the licence without having action taken against them," he told reporters after attending a gathering with fishermen at the Balok fishermen's jetty here today.
Fisheries director-general Datuk Munir Mohd Nawi; Fisheries Development Authority of Malaysia (LKIM) director-general Jamaludin Othman and Pahang Malaysian Maritime Enforcement Agency (MMEA) maritime deputy director (operations) Capt V. Pannir Selvan were also present at the event.
Salahuddin said the red tape can be reduced if the applicant obtains the recommendation of the National Fishermen's Association (Nekmat), Area Fishermen's Association or the village chief.
He said facilitating the process is one of his objectives to help fishermen.
Salahuddin also said that the ministry is working on reducing the incidences of trawlers encroaching into the fishing grounds of coastal fishermen.
"The measure is being implemented in stages and so far 400 Class C2 deep-sea fishing licences have been revoked in the process," he said.
At the event, Salahuddin also announced an allocation of RM80,000 to upgrade the Balok fishermen's market to encourage fish landing there.
-- BERNAMA