Pacific partnership wants to include more partner nations - US envoy

Last Update: 11/04/2019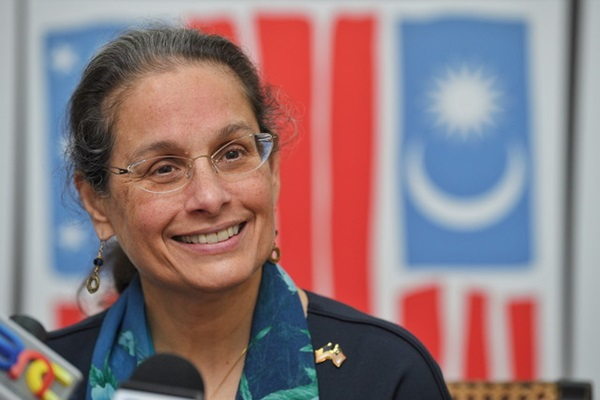 KUCHING, April 11 (Bernama) -- The Pacific Partnership led by the United States (US) wants to include more partner nations to make it more multilateral in establishing closer network and friendship in the region.
The US ambassador to Malaysia, Kamala Shirin Lakhdhir said this partnership also included the Malaysian military as well as its US allies and friends to ensure the international community was better prepared to come together in times of natural disaster or crisis.
"We should build on the success of the year before and we should think how to make it more complex and integrated with more partners to be part of the disaster response," she told a news conference after the closing ceremony of the Pacific Partnership 2019 involving US-Malaysia cooperation here on board the US naval ship, Fall River, today.
Also present were Sarawak Utilities Minister, Datuk Seri Dr Stephen Rundi Utom; Malaysian Armed Forces Joint Force commander, Lt Gen Datuk Suhaimi Mohd Zuki; and US Combined Taskforce-73 (Singapore) commander, Rear Admiral Joseph Tynch.
Pacific Partnership is the largest annual multilateral all-hazards preparedness mission in the Indo-Pacific region led by the US and joined by Vietnam, Thailand, Malaysia, the Philippines, Timor-Leste, Federated States of Micronesia and Republic of the Marshall Islands since 2006 in response to the 2004 Indian Ocean tsunami.
Dr Rundi, on behalf of the Sarawak government, hoped the Pacific Partnership, which was conducted for 12 days, here could extend its humanitarian projects to the interior of the state, especially involving rural schools.
Meanwhile, Suhaimi said there was a need for closer cooperation involving the participation of civilians and non-governmental organisations in facing the eventualities of all hazards in the country.
Tynch said based on past experiences in the Indo-Pacific region, the US military was ever prepared to provide humanitarian assistance to countries facing natural disasters.
"We've had a tremendous experience between the military and civilians here during the 12-day mission…we learnt from each other based on a relationship we built over the past 60 years," he said.
While in Malaysia, American sailors worked side by side with Malaysia's military personnel and medical professionals in conducting humanitarian assistance and disaster relief readiness drills, and partnering in community outreach and public health programmes.
In conjunction with the Pacific Partnership 2019, the Fall River has visited Kuching for the second time since 2017 and following its mission here, it will be sailing to Timor-Leste.
-- BERNAMA