Freshwater "gelama bekok" for an appetising meal

Last Update: 28/03/2019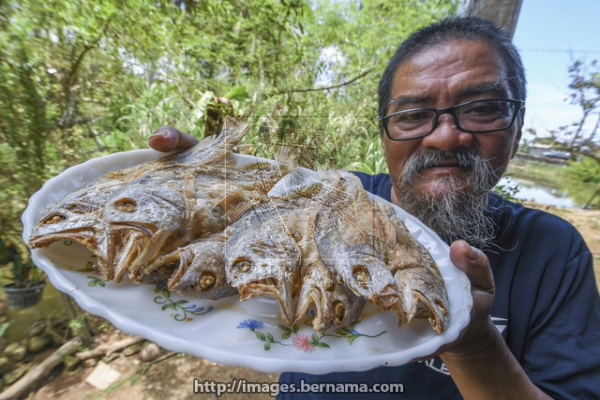 TUMPAT, March 28 (Bernama) --- Some people outside Kelantan may never have heard of "ikan gelama bekok", but for the Kelantanese, it is a specialty during meals or an appetiser.
"Ikan Bekok" is actually preserved fish and the specialty is using the freshwater Gelama fish. Other types of fish can also be used, such as Selangat or Cencaru.
The preserved "ikan bekok" is just like any other appetisers, such "pekasam", "cincalok" and "budu", but the preserved freshwater Gelama fish can be very costly, with price at RM90 per kilogram.
In Tumpat and Kota Bharu, there are restaurants that serve "ikan bekok".
A survey by Bernama at Sungai Kelantan here recently found at least 50 anglers in their boats and they were all hoping to get freshwater Gelama fish.
The anglers included government officers, who were on leave and spending their holiday fishing.
Rozlen Mahmud, 58, an army retiree from Kampung Kok Majid, said most of the anglers would not sell the freshwater Gelama fish they caught, but would processed them into "ikan bekok".
Rozlen said he and his wife, Hasmah Mamat, 60, also make "Ikan bekok", but only using the freshwater Gelama fish.
"Freshwater Gelama taste better than the ones caught in the sea", he said, adding that the season to fish for freshwater Gelama is in February and October.
"The process of making "ikan bekok' is after cleaning the fish, soak it in a mixture of salt and vinegar for 30 minute, or marinate it with salt and then put it out to dry for a day," he added.
He said "ikan gelama bekok" could be kept for a longer period.
-- BERNAMA