A tragic turn in trip home for wedding

Last Update: 28/03/2019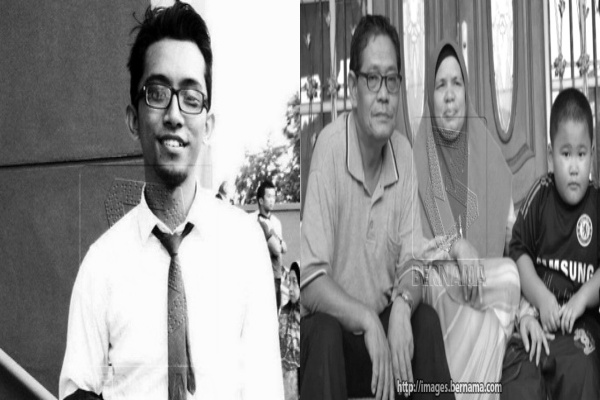 RAUB, March 28 (Bernama) -- Engineer Muhammad Faezuan Nor Izuddin was supposed to attend his younger sister's marriage solemnisation ceremony at Kampung Jelawat in Bachok, Kelantan today.
However, things took a tragic turn as Faezuan and four other family members were killed when the car they were travelling in skidded and collided head-on with an express bus at Kampung Jeram Besu here early today.
According to his grandaunt, Nurul Aini Haron, 51, Faezuan had also wanted to meet his eldest daughter Mariam Medina after the ceremony as his wife, Nor Asilah Arrahim, 28, was in confinement in Kok Lanas, Ketereh, after giving birth about a month ago.
"We were supposed to gather at Faezuan's house today because we were supposed to have a feast tomorrow after today's marriage solemnisation ceremony. We thought they couldn't make it to the solemnisation ceremony and would only arrive tomorrow.
"I only knew that they were already on their way when I received a call from the police regarding the accident at 4.30am today," she told reporters at the compound of the Raub Hospital Forensic Unit here.
In the 3.45am incident, Muhammad Faezuan, 27, and his grandaunt Sobariah Haron, 54; her husband Mohd Sajury Abdullah, 63; the couple's six-year-old son Uwais AlQurney Abdullah; as well as Sobariah's niece Nur Ilham Najwa Rahimi, 20, were confirmed to have died on the spot.
The Proton Persona car driven by Mohd Sajury is believed to have skidded and collided head-on with an express bus carrying 45 passengers at Kilometre 325 of Jalan Kuala Lumpur-Kota Bharu here, resulting in both vehicles being dragged to the left shoulder of the road.
The bus, which was on its way from Kota Bharu to Kuala Lumpur, then crashed into two food stalls on the road side while the car fell into a drain. Only one bus passenger was slightly injured.
Nurul Aini added that she did not know that Sobariah, who lived in Taman Rasha in Klang, Selangor, would leave home so early in the morning as her sister did not tell her anything about it when they were chatting via their family WhatsApp group yesterday.
"I shared with her that I've been chosen to go for the haj pilgrimage this year and she congratulated me. She said she was happy for me...it did not occur to me that our pleasant conversation last night would end in tragedy, with the loss of five family members," she said.
Nurul Ain added that her late sister's eldest son, Amirul Khairul, 20, who is pursuing a syariah course at the Al Azhar University in Egypt, was on his way back after being informed of the death of all his family members.
The remains of the three family members and Nur Ilham Najwa, a second-semester Al-Quran and al-Sunnah student of the International Islamic College University in Bangi, Selangor, were laid to rest at the Kampung Mak Mayung Burial ground in Bachok while Muhammad Faezuan was buried in Kampung Jelawat today.
Meanwhile, Nur Ilham Najwa's mother, Ramzainiah Haron, 48, said she did not expect her eldest daughter, who was on a three-month semester break, to hitch a ride home with her (Ramzainiah's) sister.
"We last spoke on the telephone last Tuesday...she did say she wanted to come home but not in detail.
"We last saw her in December last year when she came back by bus and she did mention at that time that she wanted to return home during this three-month break," said Ramzianiah, who has five other children.
-- BERNAMA