Sultan Azlan Shah Cup: India crush Malaysia's hope of retaining 100 per cent win record

Last Update: 26/03/2019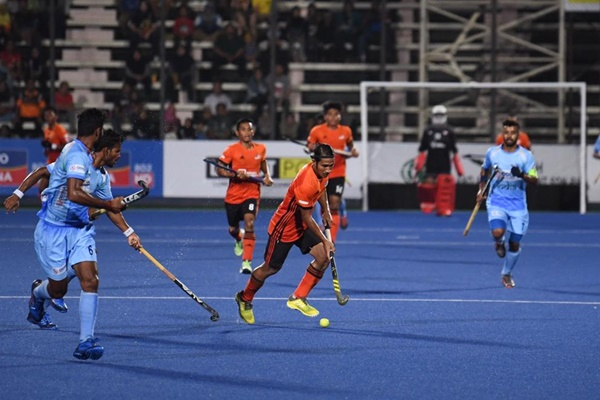 IPOH, March 26 (Bernama) -- Malaysia's dream to retain a 100 per cent winning record and stay on top of the table in the 28th edition of the Sultan Azlan Shah Cup hockey championship were dashed as they lost 2-4 to India tonight.
In front of more than 3,000 supporters at the Azlan Shah Stadium here, Malaysia tested the opponent's goal in the ninth minute, but Razie Rahim's attempt through a penalty corner was thwarted by Indian goalkeeper Krishnan Pathak
The Speedy Tigers squad launched a series of attacks against India, but found themselves trailing in the 17th minute, after a field goal by Sumit.
Razie then equalised for Malaysia, firing a shot in from a penalty corner in the 21st minute.
India, who are currently ranked fifth in the world, went ahead again in the 27th minute, this time through Sumit Kumar.
The goal was a boost in confidence for the visitors, as in the 36th minute, Varun Kumar scored the third goal for his side through a penalty corner.
Malaysia reduced the deficit in 57th minute when Tengku Ahmad Tajuddin scored following a scramble in front of the visitor's goal.
The goal, however, did little to quash India's confidence as Mandeep Singh contributed another field goal to take his side to 4-2.
Malaysian coach Roelant Oltmans said the squad's failure to complete a number of chances including penalty corners had cost them dearly.
Despite the defeat, he praised his men for keeping pace with their Indian counterparts high tempo game.
"We got nine penalty corners, but only one was successful. Maybe if we could have scored half those chances (penalty corners), the result would have been different," he said.
--BERNAMA