Hometown surprise visit ends in tragedy

Last Update: 26/03/2019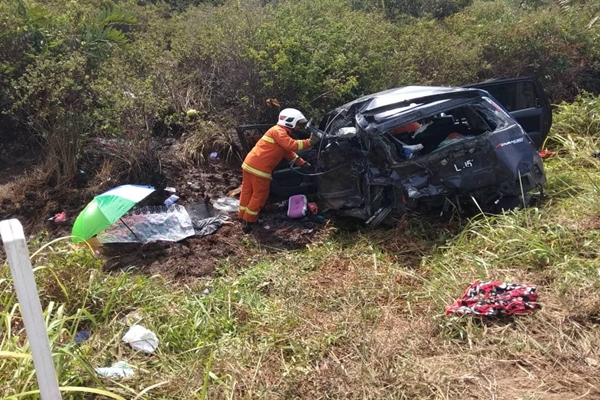 PEKAN, March 26 (Bernama) -- Kamaruddin Mohd Zin and wife Nor Hasidah Asbullah intended to spring a surprise to their family members by returning to their hometown without the knowledge of anyone.
The planned 'surprise', however, ended in tragedy when Nor Hasidah and two of the couple's children died after being thrown out of the car in an accident at Kilometre 55 Jalan Pekan-Nenasi-Rompin near Kampung Badong, here today.
Nor Hasidah's mother, Gayah Mat Aruf, 54, who works as a clerk with Felcra said her daughter who lived in Taman Air Biru in Pasir Gudang, Johor had never done such a thing before, and in fact, would upload her status of wishing to return to her hometown in her Facebook social website.
"I only knew that they were involved in a road accident while at the office when someone showed the photograph in WhatsApp. I tried to contact my daughter's handphone, but there was no reply.
"We talked over the phone last week and my late daughter told me that they would not be coming home for the school holidays as her husband was not well...so, no one could drive (the car)," she told reporters when met at the Pekan Hospital Forensic Unit, here today.
Gayah said that she only knew about the death of her second daughter out of four siblings at 12 noon, and knew that only one grandchild had also died in the crash.
She said that the last time that they had met was during the Chinese New Year leave recently, when her daughter sent home her mother-in-law, Selmor Salleh, 61, to Kampung Temiang, Marang located about 30 kilometres from their house in Felcra In Situ in Hulu Berang.
In the accident at 9.56 this morning, Nor Hasidah, 32, and two of her children, Nur Auni Athirah Kamaruddin, 8, and Muhammad Iffat Rizqi, 2, died after the Perodua Alza car that they were travelling in went out of control and turned around before entering into the opposite lane and was involved in a collision with an ice lorry.
The accident also resulted in Kamaruddin, 33, a factory operator in Pasir Gudang and the couple's second child, Nur Syadni Syakirah, 3, being injured and according to a family member, both of them had been transferred to Hospital Tengku Ampuan Afzan (HTAA) in Kuantan.
Gayah said that Nor Hasidah and her two children would be buried at the Felcra In Situ burial ground tonight.
-- BERNAMA