Bernama staff covering chemical pollution site feel safer using protective gear

Last Update: 16/03/2019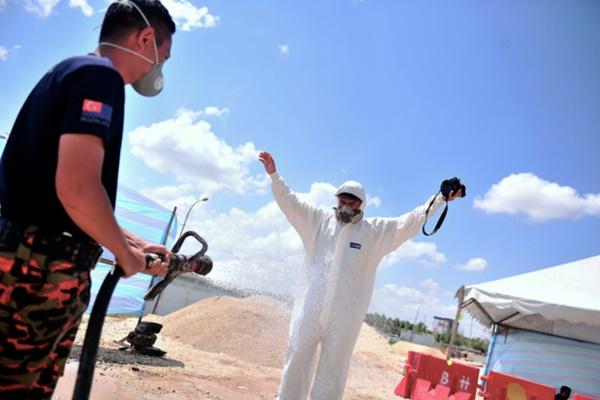 JOHOR BAHARU, March 16 (Bernama) -- A Malaysian National News Agency (Bernama) staff said it was safer covering the chemical waste pollution site in Pasir Gudang after receiving the personal protective equipment (PPE) today.
Photographer Muhammad Zulhilmi Daud, 28, from the Melaka Bureau who was assigned to Pasir Gudang, said he felt more confident about his safety when on duty at the site.
"Before this, I only wore a face mask provided by a disaster management committee staff, but it is less suitable to use when covering pollution cleaning work around Sungai Kim Kim," he said here, today.
He said earlier he had tried to find a suitable mask covering the nose and mouth around Pasir Gudang and Johor Bahru but failed.
"Previously, I wore an old mask covering my nose and mouth which is more than 10 years old from a shop in Johor Bahru, which is only suitable when spraying pesticides and only serves to filter out dust," he said.
Muhammad Zulhimi said he only realised that his face mask was not appropriate to be used at the site when he was reprimanded by a fire officer.
The photographer, who covered the typhoon Haiyan disaster, in Philippines in 2013, said the danger risk here was higher because of harmful gases not visible to the naked eye.
Also sharing the same experience was part-time photographer from the Johor Bahru Bureau, Fathin Suhaira Abd Rahim, who was covering a disaster site for the first time.
Fathin Suhaira said she felt safer wearing the personal protective gear, constituting the industrial chemical mask covering the nose and mouth.
"Before I felt uncomfortable when breathing and there was rashes on my skin but this morning when I came down to the site I did not experience any problems," she said.
The supplies included ten industrial grade masks covering the nose and mouth and two protective clothing (PPE) to 12 personnel covering the site.
-- BERNAMA