Has cartooning in Malaysia lost its lustre?

Last Update: 12/03/2019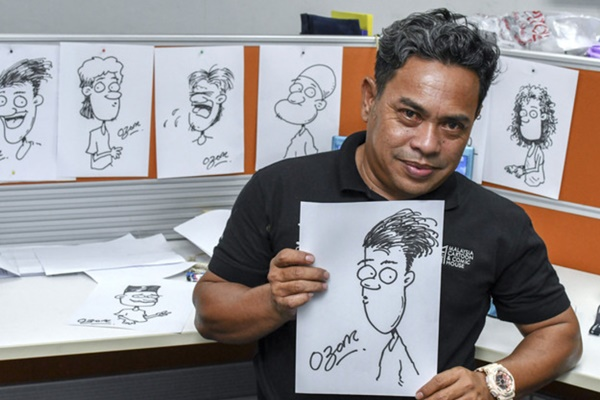 KOTA BHARU, March 12 (Bernama) – A Malay newspaper recently ran a story on two cartoonist who were well-known until public interest in local comic books began to fade and people started reading Chinese manhua and Japanese manga instead.
The two cartoonists – one who has had work published in Gila-Gila, other comic books and newspapers, and another in Anak-Anak Sidek and Ana Muslim – have now taken up jobs as a taxi driver and rubber tapper respectively.
While melancholic their cartooning careers have not grown, they are grateful they earn enough to put food on the table for their family.
However, cartoonist Norhasram Mohammad, 52, said the article was not a precise representation of the industry.
He said contrary to the portrayal in the article, life is not bad for cartoonists, giving Datuk Mohammad Nor Khalid (Datuk Lat), cartoonist Ujang and Zainal Buang Hussein as examples of those who have made it.
"Perhaps there are those who have gone off in a different direction to make a living, but there are also quite a number who are able to support themselves on work for magazines and as independents," he told Bernama today.
Going by the sobriquet of Ozom, the former Majalah Gelagat cartoonist said he continues to produce work for a few satirical magazines, functions as an independent illustrator and also mentors young artists.
He said there is still a market for satire magazines in Malaysia, with cartoonists able to showcase their talent.
"In fact, they also hold caricature exhibits on the kerb, and illustrate for school textbooks and children's books. There are only a few who are no longer active," Norhasram said.
He said cartoonists should keep abreast with current technology, develop new ideas and avoid imitating the work of cartoonists overseas which may not be suitable for the younger generation.
"What is important is attracting new followers while retaining your fan base," he said, adding that there is a cartoonist association which has played a role in making sure the industry stays relevant and continues to entertain and educate the masses.
"We have a Rumah Kartun (cartoon house) and Komik Malaysia (association) which brings together cartoonists to talk through their problems.
"I do not see the cartoon industry in Malaysia – or globally – having a dim future. It just needs to move with the times," he said.
-- BERNAMA