Sultan Mizan launches UMT's Scientific Expedition to LIMA'19

Last Update: 12/03/2019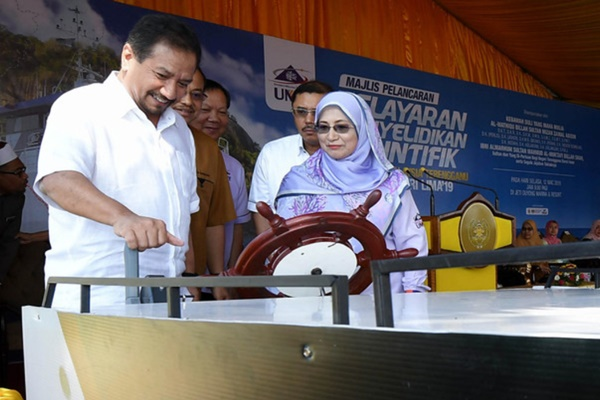 KUALA NERUS, March 12 (Bernama) -- The Sultan of Terengganu, Sultan Mizan Zainal Abidin officially launched the Universiti Malaysia Terengganu (UMT) Scientific Research Voyage: Lima'19 Expedition at the Duyung Marina & Resort jetty near here today.
He was accompanied by Sultanah Nur Zahirah, who is also the UMT chancellor, Menteri Besar Dr Ahmad Samsuri Mokhtar, state Secretary Datuk A Rahman Yahya, UMT pro-chancellor Tan Sri Samsudin Osman and UMT vice-chancellor Professor Datuk Dr Nor Aieni Mokhtar.
The expedition, using the UMT research vessel, RV Discovery, will sail off tomorrow and the ship is expected to dock at the Tanjung Lembung Pier in Pulau Langkawi on March 24 in conjunction with the Langkawi International Maritime and Aerospace 2019 (LIMA 2019) exhibition from March 26-30.
After the launch, Sultan Mizan visited the ship, which will make the 20-day expedition around Peninsular Malaysia via two maritime routes, South China Sea and Straits of Melaka, before returning to the jetty April 6.
The expedition, to be accompanied by 25 field and laboratory scientists, including five women, will pass through more than 45 locations throughout the route, including the main study site in Pulau Perak, Kedah.
Meanwhile, Dr Nor Aieni said in her speech that apart from scientific research, the RV Discovery would also stop at Gelang Patah, Johor, to sponsor a programme with the community and schools in the state.
"The programme is aimed at promoting UMT as one of the country's pioneering universities in the field of marine science and the only one with a research vessel.
"Through this scientific expedition, research will also be conducted to produce a checklist on the presence of sepsis, its spread and biodiversity in the waters of Peninsular Malaysia," she said.
She added that findings from the expedition would be published in the form of scientific writings as well as articles in the mainstream media so that the information gathered would be applicable not only to the scientific and administrative community but also to the general public.
"This is done in the hope that it will produce Malaysians who react based on knowledge and preserve as well as cherish the environment as Malaysia's natural treasure," she said,
-- BERNAMA