2018 STPM Results: Kelantan school, students come out tops

Last Update: 11/03/2019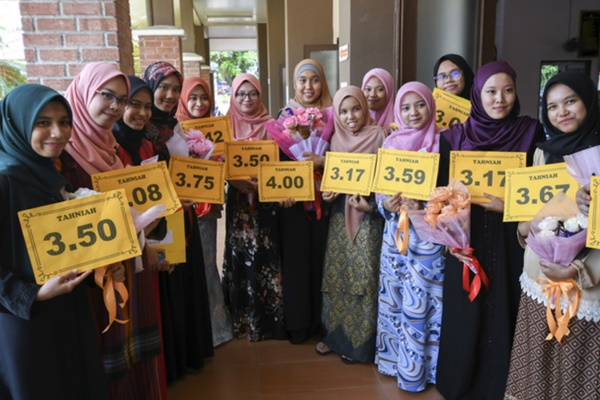 KOTA BHARU, March 11 (Bernama) – SMK Datuk Mahmud Paduka Raja 1, Tanah Merah, has created history for not only being the country's top school with the best Sijil Tinggi Persekolahan Malaysia (STPM) 2018 results, but two of its students were also named the nation's top STPM scorers..
Dhivya Janani Mariapan and Wee Chin Seng did their school proud scored scoring As in all five subjects and were honoured as exemplary students or 'Pelajar Cemerlang STPM 2018' by the Malaysian Examination Council in Kuala Lumpur today. They each received RM1,000.
Principal Kamaruzaman Zakaria said it was named the top school after six of its students received a Cumulative Grade Point Average (CGPA) of 4.0, including Dhivya Janani, the daughter of a rubber tapper and Wee whose father is a lorry driver.
"This achievement reflects the collaboration, mutual understanding and cooperation within the school community as well as its teachers' sincere commitment and the earnest efforts of students," he added.
The overall STPM 2018 results for 59 schools in Kelantan recorded improvements with CGPA achievements of government-aided schools at 2.98, compared to national schools which was at 2.80
Kelantan STPM candidates who had four or five principal passes also increased to 83.14 per cent or 2,856 candidates this year compared with the national achievement of 74.33 per cent or 31,848 candidates.
Meanwhile, SMK Zainab 1 student, Fatmaruhani Ibrahim said her poor performance in the Sijil Pelajaran Malaysia (SPM) examinations prompted her to work twice as hard and the results showed - she scored straight As in STPM.
"My previous failures and family poverty spurred me on to focus on my studies. With the help of my parents and teachers, I managed to score all 5As," she said adding that her family was dependent on her father, a barber and the family's sole breadwinner.
-- BERNAMA