'Galeri Pak Samad', UniSZA to promote literature

Last Update: 09/03/2019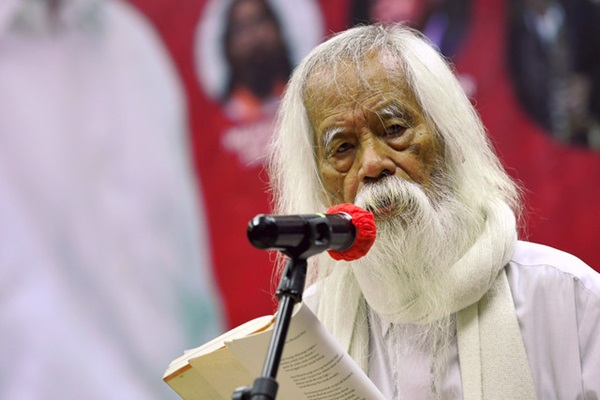 KUALA NERUS, March 9 (Bernama) -- More than 100 works of National Laureate Datuk Seri A. Samad Said will be kept at Universiti Sultan Zainal Abidin (UniSZA) here.
Its vice-chancellor UniSZA Prof Datuk Dr Hassan Basri Awang Mat Dahan said the Galeri Pak Samad project was a joint-effort between UniSZA and Dewan Bahasa dan Pustaka (DBP).
"Galeri Pak Samad is part of the 'Sasterawan D UniSZA' programme which will hopefully lead to greater sharing of his works with the students and local community.
"This programme will bring a lot of benefits to UniSZA as Pak Samad is a person with a critical mind not just in literature but also in social, political, economic and national administration," he said.
Hassan Basri was speaking to reporters after the "Program Sehari Bersama Pak Samad' discourse programme which was attended by 1,500 undergraduates, school students and members of the public.
A. Samad's appointment as 'Sasterawan D UniSZA' (Laureate at UniSZA) was in response to the call by Education Minister Dr Maszlee Malik who said local universities should 'host' National Laureates as a show of appreciation for their contributions to the country.
Through the programme, each national laureate would contribute between 10 to 30 hours a year to various activities organised by the universities and ministry.
Meanwhile, A. Samad told reporters that he was happy to share his experiences and knowledge in literature with UniSZA's students and motivate them to write more.
"There are many areas which have not been explored and should be documented in writing so that they will become reference material and national heritage. What is important is that the content of each article must have value to society and the nation," he said.
-- BERNAMA