Ocean Hero Conservation Run 2019 attracts 1,000 participants

Last Update: 02/03/2019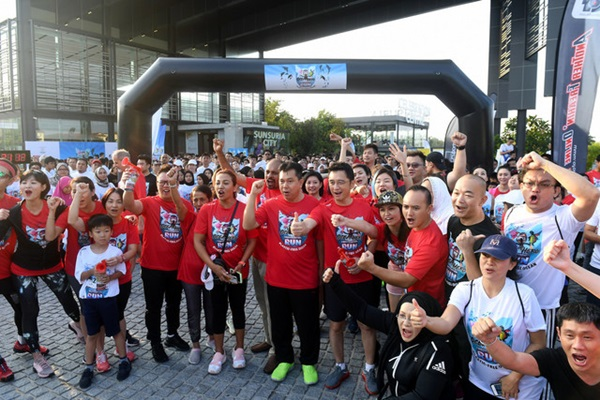 SEPANG, March 2 (Bernama) — About 1,000 participants from across Malaysia, including 500 students, took part in the Ocean Hero Conservation Run 2019, which kicked off at Sunsuria City Celebration Centre, here.
The five-kilometre charity fun-run was graced and flagged-off by Energy, Science, Technology, Environment and Climate Change Ministry deputy secretary-general (Planning and Commercialisation), Dr K. Nagulendran.
Themed 'Plastic Free Ocean", the event aims to spread awareness and educate Malaysians on plastic pollution and its effects towards the ocean and marine life, while protecting the eco-system and ensuring sustainable tourism.
Nagulendran, in his opening speech, said the government is committed to abolish single-use plastic by 2030.
"We hope that Malaysians will see the importance of protecting the marine life in order to ensure a healthy eco-system to the environment," he said
Among those who participated in the run were Ocean Hero Conservation Run Patron Tengku Hishammuddin Zaizi Tengku Aman Shah, and United Nations Resident Coordinator for Malaysia, Stefan Priesner.
Also present were the Ocean Hero Conservation Run ambassadors, singer Ning Baizura and former F1 driver Alex Yoong.
The run is held with the cooperation of conservation partners, such as Turtle Conservation Society of Malaysia, Tak Nak Straw and Sampah Menyampah, in-line with the United Nations Sustainable Development Goals.
Sunsuria berhad chairman Tan Sri Ter Leong Yap said the run would also educate students to cultivate a responsible sustainable lifestyle of stopping the use of straws and reducing the usage of single plastic.
Meanwhile, Blossomly Global, in a statement, pledged to donate RM5 for each participation to selected conservation partners.
— BERNAMA