Johor Sultan receives locomotive driver competence certificate

Last Update: 01/03/2019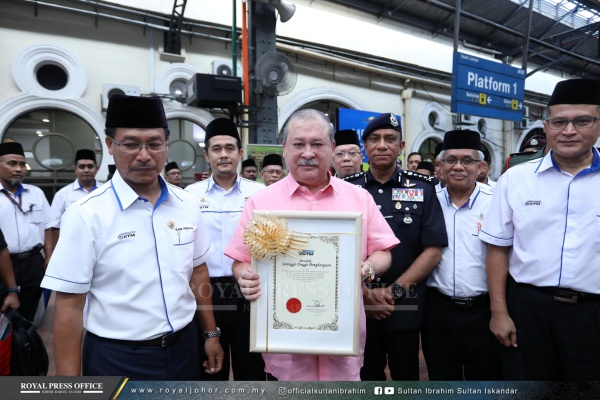 JOHOR BAHRU, March 1 (Bernama) -- The Sultan of Johor Sultan Ibrahim Almarhum Sultan Iskandar today received the Keretapi Tanah Melayu Berhad (KTMB) senior locomotive driver's competence certificate.
Sultan Ibrahim received the certificate from KTMB chief executive officer Mohd Rani Hisham Shamsudin in a ceremony held at the Kuala Lumpur Railway Station, according to a post on the Johor Ruler's Facebook.
At the ceremony, Sultan Ibrahim also received a certificate of appreciation for having driven the last Class 26 locomotive (26108 TG. KUPANG) out from Tanjong Pagar Station, Singapore to Johor Bahru Station on July 1 2011.
Soon after the ceremony today the Sultan drove a special train from Kuala Lumpur to Johor Bahru.
The train departed from the Kuala Lumpur Railway Station at 9am before making a stop at the Segamat Station.
KTMB locomotive drivers Kamal Asmawi and Supawi Ismail accompanied the ruler throughout the journey.
Sultan Ibrahim had obtained a licence to drive a train since 2010.
-- BERNAMA