YB aspirants leaving no stone unturned in canvassing for support

Last Update: 22/02/2019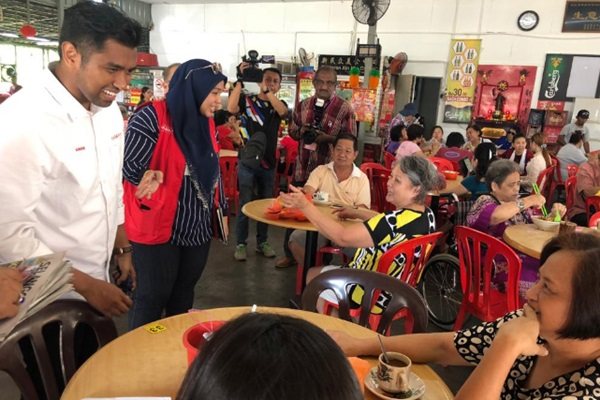 SEMENYIH, Feb 22 (Bernama) – The election machinery behind each of the aspirant YBs is firing on all cylinders with campaigning in the four-cornered Semenyih state by-election reaching its half-way mark.
With a week to go before the March 2 polls, the candidates are criss-crossing the constituency with a palpable sense of urgency in a bid to reach out to as many voters as possible -- their sights set on a coveted seat in the Selangor State Legislative Assembly.
The Pakatan Harapan (PH) bet for the seat, Muhammad Aiman Zainali, was out and about meeting constituents early Friday which also happened to be his 30th birthday.
He was pleasantly surprised when some residents having breakfast at a restaurant in Kampung Baru Semenyih serenaded him with a birthday song in Bahasa Malaysia and Chinese to mark the occasion, thanks to a pamphlet that was distributed on which his date of birth was mentioned.
The engineer and Parti Pribumi Bersatu Malaysia (Bersatu) Hulu Langat treasurer said he had personally covered more than 40 per cent of the constituency, while the PH machinery had covered more than 70 per cent of the area.
Muhammad Aiman faces Barisan Nasional candidate Zakaria Hanafi; Parti Sosialis Malaysia's Nik Aziz Afiq Abdul and Independent Kuan Chee Heng, who is better known as 'Uncle Kentang'. Nomination took place on Feb 16.
The Semenyih by-election is being held following the death of the PH assemblyman, Bakhtiar Mohd Nor, 57, of Bersatu on Jan 11 following a heart attack.
On his part, BN's Zakaria said he had covered large swathes of the constituency, reaching out to voters during visits to locations such as markets, places of worship and villages.
Nik Aziz and Kuan were also busy with their campaign programmes, with the latter having a banner proclaiming Saya Tanding Yang Berkhidmat, Bukan Tanding Yang Berhormat strung at one of his campaign venues.
Noting that the battle for Semenyih is firmly between PH and BN, political analyst Prof Dr Sivamurugan Pandian said PH may retain the seat provided it is able to lock in the support of its traditional voters and ensure no protest votes due to issues being played up by the opposition.
"A successful outing would also depend on how far each election machinery is able to function cohesively. And for PH, they have the advantage of being the government at the state and federal levels," he said.
He also said that PH had to take cognizance of issues and sentiments that had cropped up since it won the Semenyih seat with a 8,964-vote majority in the last general election.
Analyst and Universiti Teknologi Malaysia geostrategist Prof Dr Azmi Hassan said the BN had raised some issues to find a sympathetic ear with the people.
"Pakatan has to work harder in the next seven days to lock in support and explain whatever that's troubling the people of Semenyih in order to retain the constituency," he said.
PH leaders including Bersatu president Tan Sri Muhyiddin Yassin, deputy president Datuk Seri Mukhriz Mahathir, PKR deputy president Datuk Seri Mohamed Azmin Ali and vice-president Zuraida Kamaruddin, Amanah president Mohamad Sabu and vice-president Datuk Seri Dr Mujahid Yusof have all been campaigning for Muhammad Aiman in the run-up to the polls.
Tomorrow, PKR president Datuk Seri Anwar Ibrahim as well as PH president Datuk Seri Dr Wan Azizah Wan Ismail are expected to be in town to lend their support to Muhammad Aiman with various engagements with the local community here.
Meanwhile, local resident Chen Thiam Hee, 34, said Semenyih voters, especially young people, should not be quick to judge the PH government.
He concurred with the view that it would be difficult for PH to sort out all woes affecting the people and the country after being in power for merely eight months.
"But we do hope that the performance of the government will further improve moving forward. I'm also confident that the government will be able to enhance the country's economy as well," he said.
-- BERNAMA