Home Ministry seizes 5,050 copies of Quran worth half million ringgit

Last Update: 20/02/2019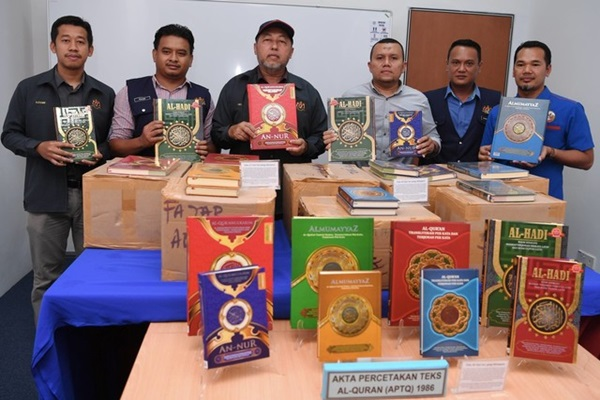 KLANG, Feb 20 (Bernama) -- A total of 5,050 copies of the Holy Quran worth RM502,800 were seized by the Enforcement and Control Division of the Selangor branch of the Home Ministry in a raid in the North Port Free Zone here on Monday.
Its director Feisal Mohamed Ali said the copies of the Quran were believed to have been brought from Indonesia for the local market and to be sold online.
"In the raid at about 2 pm, the ministry in collaboration with the Customs Department and the Department of Islamic Development Malaysia (JAKIM), seized various copies of the al-Quran including Al-Mumayyaz, Al-Hadi, An-Nur and Al-Thayib.
"Initial investigations revealed that an eight-inch Quran was being sold at RM80 while an A4-size Quran at RM120 per copy," he told a press conference here today.
Feisal said the copies of Quran were not declared and did not follow the Uthmani script as set by the government.
Feisal added that the writing of the verses in the Quran was not in accordance with the law namely spelled in roman scripts even though the National Fatwa Council had banned any spelling of the verses made in that script.
"People can check whether the purchased Quran is approved or not through the KDN hologram and stamp. If there is no approval don't buy," he said.
The case is being investigated under Section 7 (1) and Section 8 of the Printing of the Quranic Text Act 1986.
-- BERNAMA