Siniawan: An old cowboy town turns alive at night

Last Update: 19/02/2019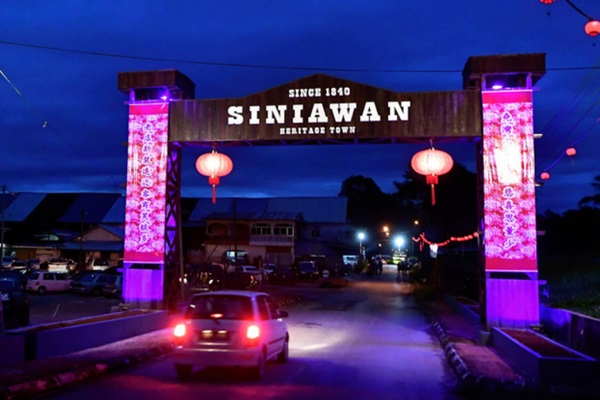 BAU, Feb 19 (Bernama) -- Siniawan is a small town in Bau district, located 25 km from the city of Kuching that still maintain its beautiful rustic wooden townhouses.
During the day it looks like an abandoned ghost town that would not attract the passers-by to visit or exploring it.
However, who would have guessed the riverside 'cowboy' town would turn into a very lively place in the evening with locals and outsiders being drawn to the town to enjoy the beautiful scenery of twilight.
As the sun sets, Siniawan would welcome visitors with a nostalgic 1970s atmosphere of a traditional Chinese oldtown.
At night, the two blocks of wooden townhouses will be floodlit with red light from rows of Chinese lanterns hung above every lane.
According to a 'kopitiam' shop owner, Bun Jan Min, 50, the evening atmosphere would be more exciting during the night market weekends as hawkers put up their food stall along the pedestrian lane.
"While taking delight in the merriment, visitors could savour the variety of traditional Chinese cuisines while enjoying the music and stage performances.
"The Muslim visitors also should not be worried as there is an abundance of Malay cuisine stalls too," he said when met by Bernama recently.
Siniawan night market takes place every Friday, Saturday and Sunday with varieties of local cuisines especially traditional Chinese food, as well as food from Malay and Dayak cultures.
Meanwhile, a local visitor, Ekhwan Haque, 32, said Siniawan's tourist attractions would be its charming old town concept and variety of delicious food.
Hence, he hoped that the state government would boost efforts to promote the area, especially during the Visit Sarawak Year 2019 campaign.
"Although many other tourist spots offering modern sophisticated building designs, the beauty and authenticity of this old town will help to keep it relevant for the tourism industry.
"The authenticity of the old townhouse buildings and its red lanterns as well as the delicious local food here should be able to attract tourists," he added.
--BERNAMA