From hammer 'boy' to bona fide blacksmith

Last Update: 17/02/2019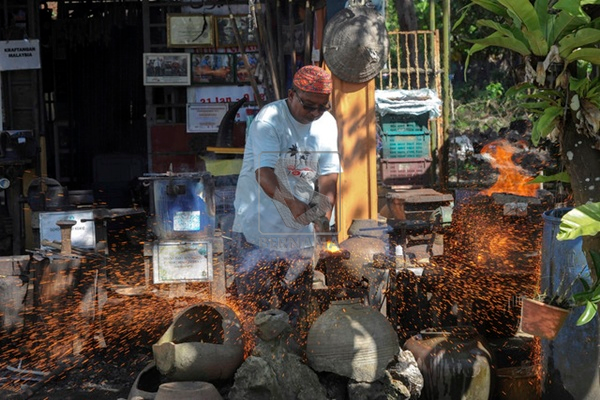 PASIR MAS, Feb 17 (Bernama) -- A deep interest in traditional weapons prompted Mohd Zaki Husain, 52, to embark on blacksmithing as a career for the past 20 years.
Mohd Zaki said everything started when he became an assistant to his late father-in-law, Ibrahim Ismail, a famous blacksmith at that time.
"Indeed, I like to collect traditional items including weapons and other artistic items since a teenager because for me they have their own uniqueness as well as a symbol of Malay strength.
"Deep in my heart, I have harboured a desire to learn blacksmithing and to turn out such weapons myself but the desire was buried until I married a blacksmith's daughter," he said when met by Bernama at his workshop in Kampung Manir, Tendong here today.
He jumped at the opportunity when his father-in-law offered to teach him all he knew about the craft.
Nevertheless, Mohd Zaki said it was not easy to master the skills without a profound interest, patience and precision.
"We need to put up with the heat during the process to produce the patterns on the weapons other than devoting quite a considerable amount of time to produce the perfect traditional weapons," he said.
However, he said all the labouring and sweating paid off when every month he earned a fairly lucrative income from the sale of items made with his own hands.
The father of three children said that among the many items which received a lot of orders were various types of spear heads which were priced from RM100 to RM250 as well as kris which reached up to thousands of ringgit depending on the craftmanship, shape and size.
He also produced a variety of other equipment including buffalo horn trumpets, betel cutters and traditional hair pins that were now in demand.
Mohd Zaki has received numerous invitations to various blacksmithing demonstrations throughout the country as well as involvements in various art exhibitions and sales.
Touching on earnings, Mohd Zaki said traditional equipment or weapons had their own fans.
"They are not stingy and are willing to "splurge" to get the items they are interested in," he said.
He said changing times has changed the function and role of traditional weapons from items for self defence and hunting to decorations or used in ceremonies.
"Whatever its purpose, these traditional weapons need to be preserved so they do not disappear because it is closely related to the history of the Malays since the Melaka Sultanate," he said.
However, he said there is concern when not many young people are interested in making traditional weapons including his own children.
He said although weapons blacksmithing appears difficult, it can promise a lucrative income and is a worthwhile a career choice.
-- BERNAMA