Sunda pangolins need protection, Sabah minister says

Last Update: 16/02/2019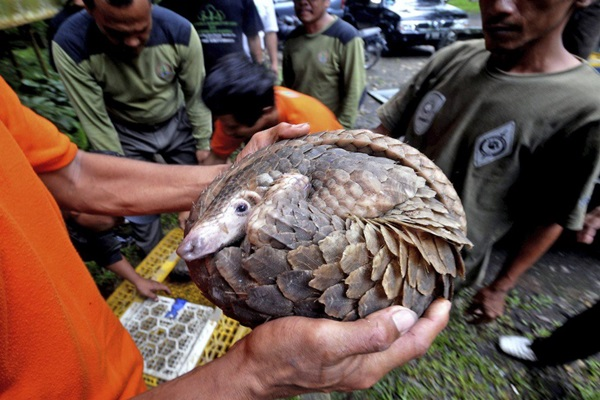 KOTA KINABALU, Feb 16 (Bernama) – BBC in a recent article on its website called the shy pangolin "the most widely trafficked mammal in the world" while also mentioning a massive haul of the animals in Sabah recently.
At the Sabah-World Pangolin Day gala dinner this evening, Sabah Tourism, Culture and Environment Minister, Datuk Christina Liew, said it is time for proactive measures to protect the Sunda pangolin from poachers.
She said as head of the ministry that oversees the Sabah Wildlife Department, she fully supports and values all efforts to protect the creature which is being illegally hunted for its scales and meat.
She recommends the "3E Formula" to end the senseless killing of pangolins in Sabah.
The first "E", she said, stands for the empowerment of stakeholders in protecting these mammals, the second "E" stands for enforcement of the law against perpetrators and the third "E" stands for educating the public to raise awareness on the importance of protecting pangolins.
"In this respect, I acknowledge the contributions of Elisa Panjang, a local pangolin expert from Sandakan, for her role in developing educational programmes targeted at school students and the public to curb the massive loss," she said.
Also at the function which was sponsored mainly by Peter Chan (of the Pangolin Conservation Initiative), was Sabah Wildlife Department director, Augustine Tuuga.
She urged the relevant authorities to raid eateries that serve up pangolin meat and welcomed tip-offs from the public to help in the fight against trapping pangolins.
She said pangolins – sometimes called scaly anteaters – are listed in Part One and Schedule One of Sabah's Wildlife Conservation Enactment 1997.
"This means it is forbidden to hunt, consume, possess or sell pangolins or their parts. In other words, the pangolin is listed as a fully-protected animal under the enactment.
"Pangolin traffickers in Sabah now face a minimum fine of RM50,000 and a maximum fine of RM250,000, a minimum one-year imprisonment or maximum five years, or both (penalties)," she said.
She said Sabah police recently had its largest haul of live animals and parts worth RM8.4 million.
She said the police arrested the mastermind behind this illegal wildlife trade and raided a warehouse in Tamparuli, confiscating among other things 361kg of pangolin scales and three containers packed with 1,860 boxes of frozen pangolin (carcases).
"This is indeed a shocker. Sabahans must wake-up to the severity of poaching and illegal wildlife trade," Liew said.
-- BERNAMA