54 Sape performers out to create history by playing 50 hours non-stop

Last Update: 15/02/2019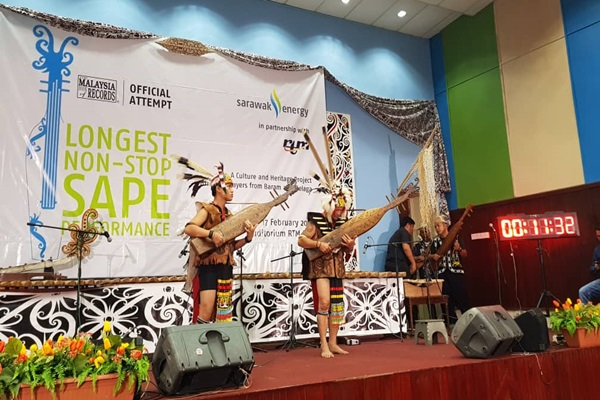 MIRI, Feb 15 (Bernama) -- A 74-year-old disabled man and two 14-year-olds are among 54 performers of the Sape, a traditional musical instrument of the Orang Ulu community in Sarawak, trying to set a record by performing non-stop for 50 hours, or three consecutive days, from today until Sunday.
The longest Sape musical performance, the first of its kind in the country, will see them playing 59 traditional melodies to earn a place in the Malaysia Book of Records (MBR).
This event, jointly sponsored by Sarawak RTM and Sarawak Energy Berhad (SEB), will see the 51 males and three females performing in pairs for 10-minute durations. The MBR will present the certificate of recognition on Sunday.
Renowned Sape performer Mathew Ngau Jau, who frequently holds shows overseas and dubbed the 'Sape Master', has been given the honour of kicking off the event with his partner Solomon Gau at the Miri Auditorium.
SEB Corporate Services executive vice-president, Aisah Eden officially launched the event today, saying the programme was aimed at introducing Sape music to the world and to encourage the younger generation to take up playing the instrument.
She said that as part of its corporate social responsibility (CSR), SEB was also involved in creating a back-up generation of Sape performers under the Telang Usan Sape Heritage project with the cooperation of SMK Temenggong Lai.
Sarawak Broadcasting director Zainal Abidin Asri Abdul Wahid said in his speech said that the event was proof that apart from sports, traditional music could also unite the various races in the state.
Previously, the Sape, which is shaped like a junk ship, was limited to being performed at weddings, carnivals and cultural events, but is now synonymous with the rainforest music festival.
The Sada Borneo group had used the musical instrument to perform in the final of the first season of the Asia's Got Talent television show.
-- BERNAMA