I'll be forever in-debt to Abdul Bari Asyraf- rescued victim

Last Update: 10/02/2019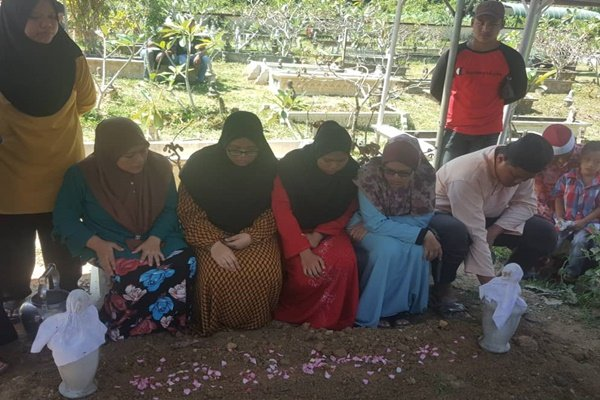 KUALA TERENGGANU, Feb 10 (Bernama) -- The courage and bravery of the late Abdul Bari Asyraf Mohd, 31, gave her a 'new life' and she'll be in debt forever, said the rescued passenger.
According to Nordiana Alwani Jaafar, 33, one of the passengers in the four-wheel-drive vehicle which had plunged into a river in Pulau Warisan last Friday said the deceased was the first person who appeared for the rescue.
She said she still remembered Abdul Bari Asyraf's reaction underwater trying to uplift her spirit to save herself.
"The most memorable thing was he was very quick to save my three-year-old daughter (Iman Nur Hana Luthfia Mohd Amiruddin)," she told reporters at the forensic unit of the Sultanah Nur Zahirah Hospital (HSNZ) here today.
Besides her, other passengers of the vehicle were her stepmother, Suryati Rosli, 37 and stepmother's sister, Asmaa Rosli, 23, and her younger sister, Safawani Jaafar, 11, and it was understood that the late Abdul Bari helped to rescue three of them.
Sharing her experience, Nordiana Alwani said the only thing in her head was death but Abdul Bari Asyraf's presence was uplifting and the first thing she did was hand over her three-year-old daughter to him.
"Everything happened too fast and all of a sudden, the vehicle was sinking.
"After the car plunged into the river, my stepmother and I immediately opened the windows at both sides of the front seat and at the same time I saw (Abdul Bari Asyraf) jump into the river to help," she added.
She said during the incident, he seems exhausted but still persistent, repeatedly jumping into the water, especially when several other rescuers had experienced muscle cramps.
Nordiana Alwani, who was discharged from the hospital at about 10 am, met the family of the deceased and was seen embracing them and crying while repeatedly apologising and thanking.
Abdul Bari Asyraf's mother, Masitah Awang, 60, was saddened by the loss of her third from eight children, however, she was grateful that her son was found and safely laid to rest.
She said her late son was not married and worked as a welder and was a cheerful and lovable person.
"Although I can only see his body, I am grateful that he was found. We have been waiting at the scene since Friday night and only returned home for a while early in the morning for the Subuh (dawn) prayers," she added.
Abdul Bari Asyraf's remains were laid to rest at the Kampung Merbau Patah Muslim Cemetery here at 2.30pm.
The funeral was attended by nearly 500 family members, relatives and local residents.
Prior to that, the funeral prayer was done at the same Mosque after the Zuhur (midday) prayer.
-- BERNAMA