Father comes to terms with Abdul Bari's death, hails son's heroism

Last Update: 10/02/2019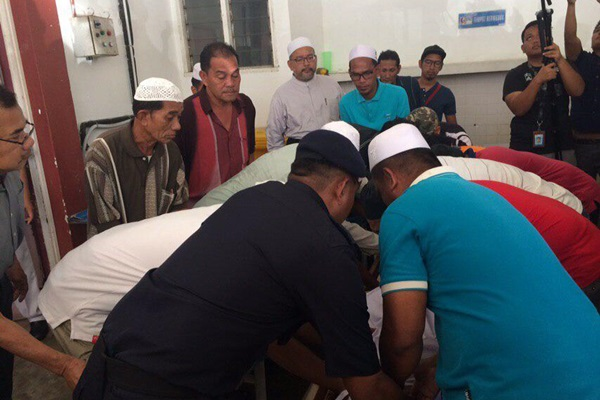 KUALA TERENGGANU, Feb 10 (Bernama) -- Though grief-stricken, Mohd Mustafa is proud of his son Abdul Bari Asyraf's heroism.
Abdul Bari Asyraf, 31, his third child, drowned while trying to save four passengers in a four-wheel-drive vehicle which had plunged into the Sungai Terengganu river in Pulau Warisan last Friday.
His body was found floating in the front Kuala Tanjung, Sungai Terengganu, about 2.5km from where he went missing, by members of the public at 7.24 am today and was brought ashore by fire and rescue personnel.
Mohd, 66, who appeared down but calm when met at the forensics unit of the Sultanah Nur Zahirah Hospital (HSNZ) here, expressed his gratitude that his son's body was finally recovered after an extensive search.
"Praise be to Allah...we understand and accept His will. Everyone, including his mother, Masitah Awang, 60, have come to terms with his passing. Although we feel sad, we are proud of him for setting aside his own safety for that of others," he added.
Mohd in thanking the search party said his instincts told him that his son had 'drifted' far away and the discovery of the body about 2.5 kilometres downstream from the scene just confirmed it.
According to him, the funeral prayers will be held at the Merbau Patah Mosque here, before being laid to rest at the Merbau Patah Muslim Cemetery after the "zuhur" (midday's) prayer.
Meanwhile, Terengganu Menteri Besar Dr Ahmad Samsuri Mokhtar via his official Facebook page said Abdul Bari Asyraf's was true hero because he was willing to sacrifice his own life to save the lives of others.
In the 9.30pm incident, Abdul Bari Asyraf, who was then fishing with friends, jumped into the river estuary after seeing the four-wheel drive vehicle plunge into the river, and it is understood that he managed to rescue one of the four family members in it before he went missing.
-- BERNAMA